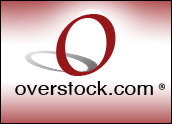 Overstock.com announced today it will sell 1.2 million shares of common stock at an expected price of US$57.53 per share. That would give the online closeout retailer approximately $65.3 million in proceeds.
The company said underwriters have an option to purchase up to an additional 180,000 shares to cover over-allotments, if any.
Overstock.com also announced today that it has agreed to sell 3.75 percent of its senior convertible notes due in 2011 at a price of $76.23 per share to raise an additional $100 million.
Show Me the Money
Overstock.com said it expects to use the net proceeds from both transactions for working capital requirements and general corporate purposes.
In addition, a portion of the proceeds might be used to acquire complementary technologies or businesses. However, Overstock.com currently has no commitments or agreements and is not involved in any negotiations with respect to any such transactions.
Tom Taulli, an IPO analyst with CurrentOfferings.com, told the E-Commerce Times that much of the money raised in these transactions will probably go to marketing expenses in preparation for the holiday shopping season.
"There is a lot of competition out there and Overstock.com is a relatively small player in the market," Taulli said. "This is a company that needs a lot of money."
Public Market Competition
Timing could also be at play. SmartBargains.com, another deep discount e-tailer, is planning an initial public offering in the near-term.
"Overstock could be trying to do a follow-on before SmartBargains goes IPO next month," Taulli said. "But it seems like there are buyers for Overstock's stock, so it doesn't look like they are going to have too much of a problem raising money."
Lehman Brothers is acting as the sole book-running manager, and Piper Jaffray & Co., Legg Mason Wood Walker and WR Hambrecht + Co. are acting as co-managers.
Overstock.com did not immediately return calls seeking comment.