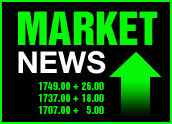 Stocks rose today, but the rally was modest as investors waited to see what Cisco Systems would say about the demand for information technology going forward after the markets closed.
Cisco reported earnings for its second quarter, matching forecasts on the profit side with US$1.4 billion in net earnings compared to $1.29 billion last year, but falling shy on sales growth, with revenue of $6.06 billion falling short of analyst expectations. Cisco promised a forecast for all of 2005 in a conference call with analysts slated for later in the afternoon.
Chip Sector Upgraded
For the session, the Dow rose 8.87 points, or 0.08 percent, to 10,724.63. The Nasdaq was up 4.65 points, or 0.22 percent, to 2,086.68. And the S&P 500 gained 0.58 points, or 0.05 percent.
Technology shares were in focus after an upgrade of the chip sector drove Intel shares higher by more than 2 percent. Shares of McAfee and Symantec were both sharply lower after Microsoft announced it was buying an enterprise antivirus firm. Microsoft shares were up 0.31 percent on the session to $26.24.
Dollar Mixed
The dollar turned in a mixed performance, gaining another 0.9 percent against the Japanese yen as it rose to a three-month high against that currency, but sliding back 0.1 percent against the euro.
Some analysts began to question whether the deficit-cutting promises made ahead of the release of the budget President Bush proposed for 2006, which had lifted the dollar higher yesterday, can actually be realized.
Crude futures traded slightly higher today, adding 12 cents per barrel to $45.40 during a volatile session after the U.S. Energy Department raised its forecasts for oil prices. The agency now says crude oil will average $46.70 per barrel for the first quarter, $3 per barrel higher than it had originally predicted late in 2004.