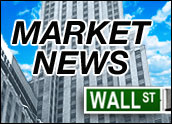 Markets rose modestly Tuesday morning as traders hunted for bargains among stocks hammered last week, but traders remained cautious ahead of news from the Federal Reserve, expected at 2:15 Eastern time today.
In morning trading, the Dow Jones rose 70.12, or 0.7 percent, to 9,884.78. The Standard & Poor's 500 index also rose 0.7 percent, to 1,072.92. The Nasdaq was up 18.32, or 1 percent, to 1,792.96.
Despite last Friday's dismaying jobs numbers, the consensus holds that the Fed will go ahead with the expected quarter-point hike in the benchmark interest rate, setting it at 1.5 percent. The real interest lies in the statement that will accompany the Fed report, which will be parsed closely for clues regarding the state of the economy and the Fed's position on raising rates in the future.
Earnings Reports
Satellite television provider EchoStar Communications saw its stock rise $1.10 to $28.36 in morning trading, even though company earnings were 5 cents lower than expected. The company boosted revenue despite higher subscriber service costs.
May Department Stores, parent company of Lord & Taylor and Marshall Field, rose $1.58 to $26.48 after reporting second-quarter profits that beat expectations by a penny.
Fossil, the watchmaker, raised profits by more than 50 percent, 4 cents more than expected. Fossil was trading at $23.70, up $1.53.
Riggs National, under federal investigation for its handling of diplomatic accounts in Washington, dropped 7 cents to $22.17. The company reported a loss due to fines imposed by regulators.
Oil News
Crude oil prices, which have remained near record highs due to high demand and questions about supply, received some good news from Iraq. Officials there reported that enough oil remains in storage tanks to keep exports flowing until the production resumes, probably in the next day or two.
Oil production in the south of the country was cut sharply after Shiite militias threatened to attack pipelines unless exports were stopped.
Worker Productivity Up Slightly
The Labor Department announced a 2.9 percent rise in worker productivity in the second quarter. It was the smallest increase since 2002, but most economists had expected even slower growth.
The slow rate indicates that companies can no longer raise productivity without adding to their work force. But as last week's poor jobs numbers indicated, companies have been wary of adding new workers.
Productivity refers to output per hour worked. Although difficult to pin down, it is considered an important economic indicator. High productivity can boost profits and the economy in general, but it can also depress hiring figures.