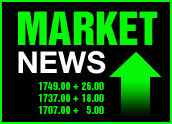 A dip in oil prices put investors in a buying mood today, as stocks regained some of the sharp losses they suffered on Friday.
The Dow Jones Industrial Average gained 32.51 points, or 0.31 percent, to close at 10,489.42. The Nasdaq climbed 14.56 points, or 0.70 percent, to finish at 2,085.19 and the S&P 500 ended at 1,177.24, up 6.90 points, or 0.59 percent on the session.
Stocks were under pressure early in the day as oil prices spiked for a short time. However, when prices retreated — oil futures closed down a quarter to $48.64 per barrel — investors began buying again.
Holiday Week
Volume was lower than normal, and most analysts predict a quiet week on Wall Street as markets are closed Thursday for Thanksgiving and close early on Friday.
While the holiday-shortened week will offer little in the way of new, hard economic data or earnings, there was plenty of news on individual stocks to begin the week.
Onetime investor darling Krispy Kreme saw shares lose another 18 percent after it missed quarterly targets on lower sales. The doughnut maker has blamed the carb-counting craze for its woes, but is also facing investigations into its accounting procedures.
Apple Soars
The star of the tech sector was Apple computer, which saw its shares climb more than 11 percent after an analyst upgrade based on the strength of the iPod and iTunes brands. By contrast, shares of Google were lower after news hit that the company's founders have filed to be able to sell as much as 15 million shares of the company's stock.
Meanwhile, the Oracle and PeopleSoft drama continued to unfold excruciatingly slowly, with Oracle saying it had rolled up commitments that amount to 61 percent of the outstanding PeopleSoft shares for its takeover bid. PeopleSoft directors, however, continue to say the offer of $24 per share is not enough and refuse to yield on the company's so-called poison pill provision that could scuttle the deal.