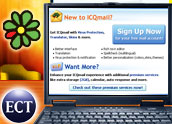 Instant messaging provider ICQ plans to officially launch a premium Web-based e-mail service later this week. The America Online property's latest offering gives users 2 GB of e-mail storage, and a suite of other features, for US$19.99 a year.
That suite of other features includes an online calendar, task manager, notepad and wireless access, for starters. POP3, IMAP and SMTP access make it possible for users to receive, send and store e-mail via Outlook Express, Eudora or other e-mail clients.
Room for More?
Is there room in the crowded Webmail marketplace for another offering? Jennifer Wilson, vice president of marketing and data at e-mail performance management firm Return Path, told the E-Commerce Times that there is still plenty of interest in new e-mail services.
"Our data shows a tremendous amount of people are trying Google's new Gmail service even though it's still in beta," Wilson said. "Of course, that's a free service."
Indeed, but unlike the free Gmail service, ICQ's $19.99 flat fee-based e-mail promises no advertisements. The "Premium Service" also offers advanced spam and virus protection, multiple identities and aliases, an auto-responder and several other features designed to enhance the e-mail experience.
"ICQ already has an active audience that interacts with it daily via IM and other communication tools," Wilson said. "Premium e-mail is a natural expansion. The fee is so nominal that their loyal audience may be willing to pay for it."
More Bells, Whistles
ICQ e-mail users who want to shell out more can also take advantage of new services like global SMS, which allows account holders to send text messages from their computer to a cell phone, PDA or other wireless device anywhere in the world.
Finally, ICQ's "Video E-mail Service" allows users to plug in a WebCam and a microphone and send videos over its e-mail network. Thirty v-mail minutes cost $4.99.
Free Mail Still Available
ICQ also launched a new and improved free e-mail service that offers sophisticated e-mail features, including advanced virus scan, spam filtering, instant e-mail translation, and a variety of new customization features, automatically to current members.
ICQ partnered with Mail2World to deliver the worldwide upgrade of its free ICQmail service and to provide portions of the new premium ICQmail service.
"Mail2World's solutions have enabled us to offer a highly customizable user experience," Danny Ben Shitrit, vice president for product marketing at ICQ, said. "We will offer our users additional convenience by providing one-click access to ICQmail through the Xtraz Center on the ICQ client in the very near future."