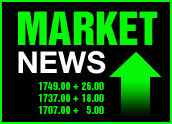 Consumer confidence surged in November to its highest levels since July as more people bet on better times ahead in 2005, a belief that stock market investors shared today as they continued the year-end rally.
All major U.S. stock markets rallied after the Conference Board reported that its index of consumer confidence leapt by nearly 10 points to 102.3 in December from 92.6 in November.
Holiday Shopping
That ended a four-month run of consecutive declines in the index and sent the rating to levels last reached in July. Improving labor markets and relief from high oil prices that plagued the U.S. through the summer and fall were credited for the turnaround.
Stocks managed to hold most of their gains through the day, with the Dow finishing at 10,854.54, up 78.41 points, or 0.73 percent, on the session and just a point off its highs of the day. The Nasdaq clocked the day's biggest percentage gain, rising 22.97 points, or 1.07 percent, to 2,177.19. The S&P 500 was up 8.62, or 0.72 percent to 1,213.54.
The confidence report renewed hope that the holiday shopping season would finish strong and that warnings yesterday from the likes of Shaper Image would be the exception rather than the rule. Some are already banking on that outcome, as shares of Amazon.com had their second straight strong session, gaining nearly 6 percent after a brokerage upgrade
Dollar Days
Volume was light as the middle of another holiday-shortened week approached. Some market watchers say the performance of the market in the first two weeks in January, when more traders are in place and when key data such as December jobs numbers are released, might be what sets the tone for 2005.
Oil prices managed to end a five-session losing streak, but rose just 45 cents to US$41.77 per barrel in New York.
A black cloud continued to hang over the currency markets, however, as the dollar slid to yet another record low against the euro today. The greenback is now trading 35 percent lower than it was at the start of 2002 and is down almost 8 percent on the year. The dollar is also off 4 percent since the start of 2004 against the yen.