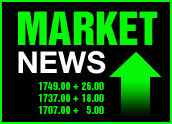 Stocks rallied today, with all averages finishing in positive territory as the U.S. dollar performed better against overseas currencies for the first time in weeks.
The Dow was up 53.65, or 0.51 percent, to 10,494.23. The Nasdaq gained 11.45 points, or 0.54 percent, to close at 2,126.11. The S&P 500 index of small-cap stocks was also higher, gaining 5.74 points, or 0.49 percent, to 1,182.81.
While individual stock news helped drive some key shares higher, the performance of the dollar was seen as a boost to investors.
The greenback was up against both the yen and the euro, which some traders said indicated a belief among investors that officials in both Japan and the European Union would intervene with policy initiatives aimed at propping up the dollar so as to avoid creating trade imbalances as consumers flock to suddenly affordable U.S. goods.
Some Shares in Focus
Oil prices were not an immediate problem for investors, as futures hit a four-month low before moving slightly higher on speculation that OPEC would agree to curtail supply in order to address the price drop when that group meets Friday.
Crude futures trading in New York were up 48 cents on the session to $41.94, but during the trading day fell to $40.45, the lowest price since late July. The movement came after the Energy Department posted data showing generally growing supplies of oil products in the U.S.
Driving the Wall Street rally were shares of Merck, which posted an outlook for 2005 that took some investors by surprise given the impact of the Vioxx withdrawal and ensuing lawsuits. Merck shares gained more than 2 percent.
Tech Stocks
Shares of IBM did not move much, despite the consummation of its deal to sell its PC division to Lenovo of China for $1.75 billion. Big Blue shares were up about half a percent to $96.65.
Elsewhere among tech stocks, Intel and other semiconductor makers saw their stocks fall modestly after an industrywide downgrade from Banc of America, which said current valuations of those shares might be too high.