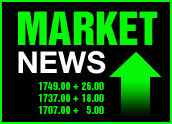 Stocks inched higher today as investors moved shares connected to the latest mega-merger, but gains were kept in check by rising oil prices and renewed concern over the U.S. dollar's strength.
The Dow Jones Industrial Average gained 15 points, or 0.14 percent, to 10,691.45. The tech-laden Nasdaq gained 2.71 points, or 0.13 percent, to finish at 2,162.55. And the S&P 500 rose 2.34 points, or 0.19 percent, to close at 1,205.72.
Weighing on shares was a sudden spike in oil prices. Crude futures shot up by US$2.37 to $44.19 per barrel in New York trading. The surge came after the Energy Department reported that crude stockpiles fell last week by 100,000 barrels.
Dollar Value
Also casting a shadow was the dollar's continued struggle against overseas currencies.
The yen was stronger against the dollar based on reports about the health of Japan's manufacturing sector, and the euro also moved higher compared to the Greenback. Comments from President Bush reiterating his administration's "strong dollar" policy did little to stop the skid.
Several companies made headline news that impacted their share prices. Shares of AOL moved higher, reaching their highest price in more than two years, after the company announced it had settled a long-running investigation into accounting practices with a $500 million settlement that closed both SEC and Justice Department inquiries.
Nortel Earnings
Nortel Networks, meanwhile, remains unable to put its own accounting issues to rest. The company posted third quarter results that disappointed investors and said that it was still unable to issue a final restatement of all earlier results that have been called into question. Nortel shares were down nearly 5 percent on the session.
Enthusiasm over the $35 billion merger between Sprint and Nextel to create a more powerful No. 3 wireless carrier didn't last the entire trading session. By the end of the day, both Sprint and Nextel shares were lower, as investors sold, in many cases cashing in on gains that occurred when talk of the merger first broke.