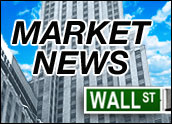 Stocks ended mixed and not far from the flat line today as investors stayed on the sidelines to see what direction oil prices would head.
A plethora of merger-and-acquisition news wasn't enough to spark buying amid an early surge in oil futures. By day's end, oil prices, which jumped to a new record of US$57.60 early in the session, closed down 6 cents a barrel to $56.40. A pledge by OPEC to increase output helped calm the futures market.
Toys R Us
However, stocks couldn't manage to break out of a narrow range. By the close, the Dow Jones industrial average has lost 6.72, or 0.06 percent, to finish at 10,626.35. The Nasdaq rose 0.67 points, or 0.03 percent, to 2,016.42, and the S&P 500 struggled higher by 2.14 points, or 0.18 percent, to close out the session at 1,190.21.
Under different circumstances, the markets might have reacted more strongly to a range of merger and acquisition news. Toys R Us, the nation's second-largest toy retailer, agreed to be sold to an investment consortium in a deal pegged at $6.6 billion that closed a lengthy auction for the retailer. Toys R Us shares were up $1.23, or about 5 percent, on the day.
Bidding for MCI
Meanwhile, Qwest Communications announced that it had boosted its offer to buy MCI Communications, raising its bid to $8.45 billion, or about $1.8 billion above the deal that MCI's board has agreed to accept from Verizon Communications. MCI shares fell nearly 2 percent.
Elsewhere, just days after former WorldCom CEO Bernard Ebbers was convicted of fraud, JPMorgan Chase & Co. agreed to pay out $2 billion to settle claims from investors who lost money in the company's financial collapse. The bank is the last of 17 major financial underwriters to settle charges that they knew or should have known about the company's woes even as investors were buying stock and bonds from the onetime telecom giant.