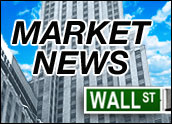 Stocks ended a volatile week with a whimper today, closing mixed as oil prices continued to make investors pause.
Oil futures moved higher again today, closing up 32 cents to US$56.72 a barrel on the New York Mercantile Exchange, a new high closing price that bested the record set just Wednesday.
Oil Impact
Meanwhile, the impact of the spike in oil began to make its way onto Wall Street. Continental Airlines dramatically lowered its earnings forecast, citing higher oil prices as the main culprit. Investors have long worried that as long as oil prices remain at or near record-high levels, corporate earnings will be dented.
Still, late buying helped stocks hold most of their ground, with blue chips even managing to post a slight gain on the session after earlier dipping to a one-month low.
The Dow Jones Industrial Average gained 3.32 points, or 0.03 percent, to finish at 10,629.67. The Nasdaq lost 8.63 points, or 0.43 percent, to 2,007.79. The S&P 500, meanwhile, lost 0.56 points, or 0.05 percent, to 1,189.65.
The markets have had a volatile couple of weeks, with the Dow closing today more than 300 points below the level it ended at two weeks before. The Nasdaq closed today at its lowest level since November.
In addition to the inflation and earnings concerns sparked by oil prices, individual stocks had their own issues. Leading retailer Wal-Mart saw its shares fall about 2 percent after agreeing to pay $11 million to settle charges that it knowing hired illegal immigrants.
Tech Stocks
Among tech stocks, Oracle was down nearly 5 percent after announcing that its chief financial officer was leaving. The software giant also said it would boost its offer to buy Retek in an effort to outbid German rival SAP.
PalmOne saw shares drop 8 percent after the company, already facing intense competition for its hand-held organizers from makers of smartphones, said new products would take longer to reach market.
Overseas, the dollar gained ground against most major currencies.