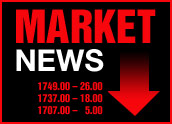 Another jump in oil prices and a lackluster outlook from a key semiconductor firm sent stocks into negative territory today.
The Dow lost 24.24 points, or 0.22 percent, to 10,912.62. The Nasdaq lost 16.66, or 0.8 percent, to 2,073.55 and the S&P 500 index fell 5.88, or 0.5 percent, to close at 1,219.43.
Tech, Oil
Tech stocks were dragged down by a drop in chip stocks after Texas Instruments cut its forecast for earnings in the current quarter. Also hurting the sector was a drop in Apple stock, which lost US$1.98, or nearly 5 percent, over the session to $40.77 as Sony unveiled a line of flash-based digital devices aimed at grabbing back market share lost to the iPod.
However, oil prices were seen as the biggest reason for the decline, as futures shot above the $55 per barrel level for the first time since October. Some profit taking curtailed gains, but futures still closed up 70 cents for the session to $54.59.
After a brief hiatus, the consolidation trend hit Wall Street again, this time in the defense contractor sector. BAE Systems North America, a unit of UK-based BAE, said it would buy United Defense Industries in a deal worth around $4 billion.
The dollar continued to struggle, losing ground against the yen and euro in overseas trading. The Greenback's struggles have sent other currencies to new highs as well, including the Mexican peso and the Australian dollar.
Deficit Concern
This week, Warren Buffet's report of his investment activities, a document closely scrutinized by many investors, contained warnings from Buffet that current deficit policies could lead to long-term struggles for the U.S. dollar.
Buffet, whose Berkshire Hathaway conglomerate went all of 2004 without a major acquisition, has been an outspoken critic of the Bush administration's economic and trade policies.