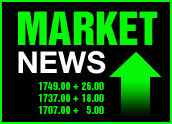 U.S. stock markets managed to edge higher in late trading Friday, salvaging some gains but remaining stuck near yearly lows as corporate earnings and oil prices continued to harangue investors.
The Dow was higher by 10.76 points to 9,825.35 and was slightly higher for the week as well.
The Nasdaq gained 4.73 points to end the week at 1,757.22 and the S&P 500 closed up 1.57 points at 1,064.80.
While earnings remained a puzzle, with Dell computer providing positive news on the heels of a dismal showing by rival Hewlett-Packard, investors had little doubt about the direction of oil prices.
Crude Futures
Crude futures again set records, closing above $46 for the first time on the New York Mercantile Exchange.
Oil prices have hit new record levels in 10 of the last 11 trading days.
Blame for the latest surge was being spread around from Venezuela, where political turmoil is feared heading into a national referendum this weekend, to Iraq, where violence is seen threatening the continued exporting of oil, and even Whiting, Indiana, where a refinery run by British Petroleum was the site of a minor explosion early Friday.
Forging Ahead
Two pieces of economic data hit Friday as well. The Producer Price Index (PPI) released early in the day showed inflation almost completely under control at the wholesale level, even with volatile energy prices taken into account.
Meanwhile, the trade deficit for June rose to a record $55.82 billion, well above expectations.
Those two factors drove up bond prices on the belief that the Federal Reserve would move more slowly to raise interest rates.
Despite the pressure on the markets, search engine Google opened its much-ballyhooed IPO for bidding on Friday.
Google did so despite acknowledging that regulators were looking into whether an article in Playboy magazine quoting the founders was a violation of the so-called "quiet period."