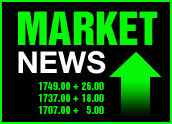 Stocks posted solid gains today, shaking off an iffy forecast from Dell, as investors drove the Dow to its third straight week of gains that left the Blue Chip index at its highest levels of 2005.
The Dow rose 46.40 points today, or 0.43 percent, to finish at 10,796.01, a gain of 0.7 percent for the week. The Nasdaq closed at 2,076.66, up 23.56 points, or 1.15 percent, on the day, but still down 0.5 percent for the week. The S&P 500 rose 8.29 points today, or 0.69 percent, and was up 0.2 percent for the week to close at 1,205.30.
Dell a Disappointment
Stocks had a mixed session early as the forecast from the usually bullish Dell disappointed some tech investors. However, a round of upgrades for the semiconductor sector brought buyers back to that sector, and the Nasdaq posted the day's biggest gains.
Dell didn't escape the wrath of investors, however, with its shares down as much as 5 percent on the session before erasing some losses to close down 3.8 percent.
However, shares of fellow computer maker Apple were sharply higher, rising 3 percent after the company announced a 2-for-1 stock split.
Overseas, the dollar traded flat against key foreign currencies, with investors pointing to a lack of new economic data to move the dollar in either direction.
Demand for Oil
Oil prices, however, did move higher, as expectations that demand will outstrip supply in the long run helped push crude futures up.
Though prices rose just 6 cents on the day, crude was up 1.5 percent for the week to US$47.16 a barrel.