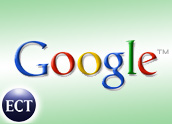 Google stock soared today after the company posted quarterly earnings that far exceeded Wall Street expectations, with growth doubled over a year ago and revenue skyrocketing to US$1.03 billion from $512 million a year earlier.
The report said net income came in at $204.1 million, or 71 cents per share, in the fourth quarter that ended December 31. That compares to $27.3 million, or 10 cents per share, a year earlier. Analysts had been predicting a net income of 57 cents per share.
The numbers were driven by strong Web search advertising revenues.
Effective Advertising Medium
Google executives said the revenue growth reflects strong traffic and monetization growth in the quarter as well as advertisers' increasing recognition of the Internet as an effective advertising medium.
Revenues generated on Google's partner sites, through AdSense programs, contributed $490 million, or 48 percent of total revenues in the fourth quarter, a 92 percent increase over the network revenues generated in the same quarter last year.
Marc Pado, U.S. market strategist at Cantor Fitzgerald & Co., told the E-Commerce Times that this is a good sign for the economy, demonstrating that companies are confident enough to advertise. "This big surge in advertising dollars bodes very well for the economy as a whole," Pado said.
He explained: "If it were just one stock, then I would take it with a grain of salt, but we've seen the same comment from Yahoo about advertising dollars definitely being on the mend. There's a lot of interest and positive forward-looking statements. This is one of those early indicators that is very encouraging for the market and the economy over all."
'Exceptional Quarter'
"Google had an exceptional quarter," CEO Eric Schmidt said. "Revenues and profits increased significantly, our execution was solid across the company, and most importantly, our relationship with our users, partners and advertisers became even stronger."
Shares of Google stock shot up today almost 10 percent to a record high. The rally also spilled over to Google competitors Yahoo and Ask Jeeves, whose stock also benefited from the news.
Google went public last August with an initial public offering targeted at $85 per share. This was the company's second quarterly report since going public. The stock was trading at $211.57 on the Nasdaq early this afternoon.