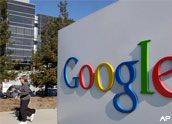 In a move likely to spur more speculation about its overall strategy for expansion, Google has won approval to become a registrar of domain names.
The International Corporation for Assigned Names and Numbers (ICANN) recently granted Google registrar status, giving it permission to sell specific domain names in seven top-level domains, including .com, .net, .org, .biz and .info.
Analysts noted that being a registrar gives Google the opportunity to package domain names along with its keyword and AdSense paid search listings, possibly even offering domains for free as an enticement to get advertisers to buy more sites and more listings.
Core Search Technologies
The move seemed certain to start another round of speculation about Google's future, though domain registration is arguably less of a variation from its core search and paid search technologies than some other forays Google has made, such as its efforts in the blogging space or its Gmail service.
Google did little to publicize the approval, which was first revealed on the LexText Weblog earlier this week. And by itself, it might not be earth-shattering news, given that Google is now one of literally hundreds of approved domain registrars.
Even if Google had publicized the move, the news would likely have quickly been drowned out by Google's stellar fourth-quarter earnings report, which saw the search engine post US$1 billion in quarterly revenue for the first time in its history as well as a seven-fold jump in net income.
That report helped propel Google shares to a record high of more than $215, close to three times what the stock sold for when Google went public in August.
Meanwhile, what was supposed to be one of the great threats to Google's future dominance arrived this week as Microsoft formally unveiled its home-grown search product through its MSN portal. Microsoft has promised an aggressive marketing campaign.
Registering Growth
Analysts saw multiple ways that Google could use its domain registrar status to enhance its other businesses or enter new ones. For instance, many registrars already sell domains at cost or for a loss in order to attract Web hosting business.
Though Google has yet to enter the hosting business, many observers believe it is only a matter of time — the large cash store it generated with its IPO has prompted speculation that it could buy a hosting concern — and that it will become a market leader the day it decides to flick the switch on such an enterprise.
However, being a registrar also dovetails nicely with Google's core business. Some have even predicted that Google could all but give away domains, making up whatever losses it incurs by selling additional search advertising on the same names.
Observers of the domain registration space said Google could pose a serious threat to small, niche domain registrars. Prices on domains have plummeted in recent years in the face of increased competition, and Google could use its market power to further drive down prices.
Forrester Research analyst Charlene Li said the fact that Google is branching out is a sign that it is confident it can do so without harming its core search business or the public's image of it as a search specialist.
"Earlier on, before it went public, there was more of a risk of Google appearing scattered," Li told the E-Commerce Times. Now that it is turning in consistent performances quarter after quarter, "it can do additional things without distracting from it what it does best."
Sky's the Limit
Some analysts note that Google has been busy churning out new innovations and products in recent months, delving into video search, for instance, and promising to digitize major university research libraries.
It also hasn't been lost on observers how close Google has become aligned with the Mozilla Foundation, whose Firefox browser has become a smash hit among consumers hungry for an alternative to Internet Explorer.
Jupiter Research analyst Niki Scevak said while much of what Google releases is impressive technology, some of it might not contribute significantly to revenues or profits in the long run. Its video search service falls into that category, since it offers limited opportunities for additional ad display space.
Still, Scevak said, the impressive results and the underlying factors behind it, including international growth, suggest that Google could quietly build an online empire while enjoying many more quarters of stellar growth from its core business. "It is quite simply amazing how well they are doing," Scevak added.