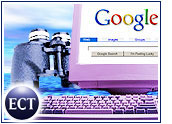 As part of a search industry move toward multi-media, Google today launched a new service that enables users to search the content of television programs.
Google will let people search for text in closed-captioning of television shows on PBS, the NBA, Fox News and C-SPAN, among others. The news comes a day after Yahoo said it would make the video search engine it began testing last month available from its home page and a week after AOL introduced its amped up search capabilities.
"What Google did for the Web, Google Video aims to do for television," Larry Page, Google co-founder and president of Products, said. "This preview release demonstrates how searching television can work today. Users can search the content of TV programs for anything, see relevant thumbnails, and discover where and when to watch matching television programs."
Streamlining Search
The Google Video beta enables users to search across the closed captioning content of a growing number of TV programs that Google began indexing in December. Entering a query such as "iPod" will return a list of relevant television programs with still images and text excerpts from the exact point in the program where the search phrase was spoken.
Google Video displays up to five still video images and five short text segments from the closed captioning of each program. The search tool also shows the next time and channel where a program will air locally according to ZIP code and when a particular program will air next.
Users can also enable searching for specific words within a given program and the tool will pull up episode information, including channel, date and time. Google says that by providing users with information on future airings of relevant programs, it can increase viewership for television channels and content producers.
On the Fly TV Guide
Indeed, Gartner analyst Allen Weiner told the E-Commerce Times that services like Google Video are an "on the fly TV guide" that allows companies to make more money off television content.
"TV search services are going to be huge when broadband television comes on the scene in the next couple of years," Weiner said. "Users are going to want to search for a particular program and there's going to be a lot of them."
Weiner said America Online is in the catbird's seat with its Singingfish property, which provides video and audio search, and its vast library of Time Warner content. Does that mean Google and Yahoo are too little too late? Quite the contrary, according to analysts.
"Every search engine that's worth anything is going to have multi-media search by midyear," Weiner said. "Microsoft is probably working on it. I'm sure Ask Jeeves is working on it. There are several ways to attack this, but multi-media search tools are going to start to resonate with users."
This early stage release of Google Video does not include Google AdWords advertising or playback options. However, Page said the company is working with content owners to improve this service by providing additional enhancements such as playback.