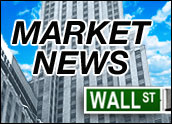 Stocks finished mixed today, with the Dow and the S&P 500 ending three-day losing streaks with their first positive sessions of 2005, but the Nasdaq still stuck in reverse.
The Dow finished at 10,622.88, up 25.05 points, or 0.24 percent. The Nasdaq lost 1.24 points, or 0.06 percent, to 2,090.00. The S&P 500 was up 4.15 points, or 0.35 percent, to 1,187.89.
Retail Mixed, Oil Up
Investors were apparently acting with caution ahead of the December employment figures due out tomorrow morning before the markets open. Though many observers had been optimistic about that report, some doubt crept in after the Labor Department reported that first-time unemployment claims rose last week.
The increase of 43,000 new claims to 364,000 for the week ended January 1 marked the largest jump in three years and took the average to its highest level since September.
Retailers, meanwhile, continued to turn out mixed reports on December sales. Target, Wal-Mart, Kohls and Saks were among those on the upside, while Sears and Best Buy failed to meet expectations for improvements in same-store sales over last year's levels.
Among individual stocks, Western Wireless saw its shares gain 15 percent after published reports suggesting Alltel was considering a US$4 billion takeover of the regional mobile carrier. Also, shares of National Semiconductor were trading higher by more than 1 percent after the chipmaker said it would lay off more than 550 workers.
Oil Prices Up
Meanwhile, oil prices surged higher as OPEC nations began to make good on pledges to reduce output in order to provide support for sagging prices. Crude futures were up 5 percent on the session in New York trading, climbing to $45.56 per barrel, the highest closing price in more than two weeks.
The dollar continued to gain back recent losses, making up ground against the euro and the yen.