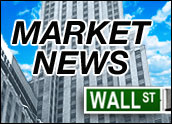 Stocks ended a volatile and holiday-shortened week today with a mixed bag of results as oil prices rebounded and inflation remained a lingering concern.
U.S. stock markets are closed tomorrow for the Good Friday holiday.
The Dow Jones industrial today average fell 13.15 points, or 0.13 percent, to 10,442.87. The Nasdaq composite rose 0.84 points, or 0.04 percent, to 1,991.06. The S&P was lower by 1.11 points, or 0.09 percent, to finish the week at 1,171.42.
Inflation Worries
All three indexes posted their third consecutive week of losses, with the Dow off 1.76 percent, the Nasdaq down 1.53 percent and the S&P off by 0.83 percent.
The long weekend will give investors more time to ponder the direction of the markets and the U.S. economy in light of recent evidence that inflation has begun to spread from oil into other areas, with a larger-than-expected jump in the Consumer Price Index (CPI) and a fresh statement from the Federal Reserve about being on guard for inflationary pressures.
Yahoo helped tech stocks outperform blue chips today, with its shares rising after it announced plans for a US$3 billion buyback of its own shares over the next five years. However, a bullish profit report from General Electric, the largest American company in terms of market capitalization, failed to ignite interest in stocks.
Oil Prices Up
Crude futures rose for the first time in three days, gaining $1.03 to close at $54.84 a barrel on the New York Mercantile Exchange.
The effects of an explosion at a BP refinery facility in Texas — one of the largest in the U.S. — were being downplayed, with the rebound attributed instead to the recent sharp sell-off.
On the economic front, the Commerce Department said orders for durable goods rose 0.3 percent in February, reversing a drop in January. The jump came largely in the commercial aircraft arena.