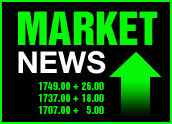 Stocks managed to end the week on the upside today with indices posting modest gains in spite of a record low for the dollar and lackluster jobs news from the U.S. Labor Department.
The benchmark Dow Jones Industrial Average was close to flat for the day but ended the session up seven points, or 0.07 percent, at 10,592.21. The Nasdaq Composite Index hit a high of 2,164.63 for the year during today's session but closed with a modest gain for the day of 4.39 points, or 0.2 percent, to 2,147.96. The S&P 500 Index added 0.84 points, or 0.07 percent, to 1,191.1.
Crude oil futures declined 14 percent for the week after positive news concerning U.S. petroleum inventories allayed supply concerns. January crude closed down 71 cents for the day at $42.54 a barrel on the New York Mercantile Exchange — down $6.90 from the session of Wednesday, Nov. 24, which capped off the short Thanksgiving trading week.
Tech Leaders
Investors learned this morning that the unemployment rate declined to a three-month low of 5.4 percent from 5.5 percent last month. However, the number of new jobs created in November was 112,000 — half the 200,000-plus figure economists had expected.
Meanwhile, newsmakers such as IBM and Intel boosted investors' spirits.
IBM took the spotlight early today with its annoucement that it was putting its PC business up for sale. Big Blue said it might already have at least one prospective buyer for the unit, which analysts say could fetch as much as US$2 billion.
Reports said China-based Lenovo Group has already inquired about buying the business, along with at least one other, yet-unnamed suitor. The news sent IBM shares up $1.32, or 1.38 percent, to close at $97.08.
Intel upwardly revised its fourth quarter sales outlook and was rewarded with a 5.3 percent increase in its share price, ending the session up $1.20 at $23.91.
Negative News
Other companies suffered on negative news, including Apple and Finnish mobile device vendor Nokia.
Nokia shed 2.09 percent, or 0.35 points, to close at $16.37 on news that two of its key executives will be replaced.
Apple took a hit as well, losing $2.53, or 3.88 percent, to close at $62.68 after suffering a downgrade by Needham & Co. from "buy" to "hold."
The already weak dollar fell 1.4 percent to an all-time low trading rate of $1.3460 against the euro. The dollar was down 1.1. percent against the yen to 102.06.