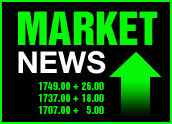 U.S. stocks posted modest gains in light trading today as shares edged higher across the board despite another surge in crude oil prices.
The Dow Jones gained 26.77 points to close at 10,081.97 and the Nasdaq tacked on 8.79 points to finish at 1,928.76. The S&P 500 rose 2.25 points to 1,124.39.
Volume was light with less than 1 billion shares traded on the NYSE on the Columbus Day holiday. The bond market was closed for the holiday.
With the third quarter now in the books and economic data providing mixed signals for some time now, investors might look for earnings news in coming weeks to provide some sense of direction for the markets and the overall economy.
In addition to earnings news, the coming week will see reports on retail sales for September and a wholesale inflation report.
Those numbers will also be closely scrutinized for their impact on interest rates. Some market watchers believe the weaker-than-expected jobs report released late last week and the absence of signs of inflation might lead the Federal Reserve to hold rates steady for the rest of 2004.
Waiting, Watching
Technology companies will help usher in the earnings season this week, with Intel, Yahoo and Apple all slated to report.
Also set to release earnings data before the end of the week are General Motors and Citigroup.
Those reports will most likely come against the backdrop of record high oil prices ascrude oil prices continued to set records today, with futures closing at US$53.64 in New York trading, their fifth record-setting closing price in as many trading sessions.