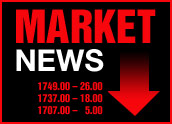 More record-high oil prices, weak earnings reports and concerns in the pharmaceutical industry weighed heavily on stocks today, pushing the Dow Jones Industrial Average down by 114.52 points to 10,125.40.
The price of November crude oil rose as high as US$53 a barrel in New York today before settling at $52.67 at the close. The session's high marked a $20 increase, or 60 percent, in crude prices since the beginning of the year.
Anxiety about the impact of high energy prices to the overall economy contributed to a lackluster performance in the market as stocks lost ground across the board.
Pharmaceuticals Hit Blue Chips
Part of the hit to the Dow came from declines in both Merck and Pfizer shares as investors expressed their concern about issues related to the drug companies' competing arthritis drugs.
After Merck pulled Vioxx from shelves last week due to evidence that it might contribute to heart attacks in some patients, similar concerns have been raised about Pfizer's Celebrex, especially in reports published in this week's New England Journal of Medicine.
At the same time, Pfizer is awaiting a decision from a federal court in New Jersey that could allow competitors to market a generic version of Pfizer's $3 billion Neurontin drug.
Merck lost 2.18 percent to close at $30.98 while Pfizer ended at $29.99, down 3.82 percent on the day.
Retailers, Techs Slump
Unimpressive retail sales figures were also a drag on the market as major outlets, including Starbucks, AnnTaylor Stores and Sears, reported disappointing results in the latest quarter.
Tech stocks took a hit as well, with the Nasdaq ending a series of seven-straight up-days with a loss of 22.51 to 1,948.52. The S&P 500 index fell 11.40 points to 1,130.65.
Meanwhile, investors got some good news in the form of a lower figure from the U.S. Department of Labor for last week's new applications for unemployment insurance benefits.
Unemployment claims were down 37,000 to 335,000 after rising for three weeks. Investors exercised caution awaiting tomorrow's distribution of the September employment report, however. Jobs are down by a net 913,000 since President Bush took office.