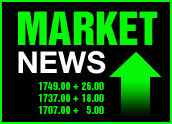 U.S. stocks narrowly managed to post their third straight day of gains today amid continued relief in oil prices.
The Dow followed up back-to-back triple-digit gains with a much more modest showing, gaining 2.51 points, or 0.03 percent, to finish at 10,004.54. The Nasdaq tacked on 5.75 points, or 0.29 percent, to 1,975.74. The S&P 500 rose 2.04 points, or 0.18 percent, to end the session at 1,127.44.
The most immediate reason cited for the strong recent performance of stocks is crude oil prices, which have tumbled from all-time record highs set late last week. In New York trading today, crude futures fell another US$1.54 to $50.92 a barrel, the lowest closing price in nearly a month.
Chinese Economy
Traders cited the decision by a key bank in China to boost interest rates as a way of cooling that country's rapidly expanding economy as a major factor. Demand from China has been a major underlying reason for the run-up in crude prices.
A couple of Dow stocks reported earnings, with ExxonMobil turning in a strong third quarter that included a 56 percent increase in net income, and Verizon Communications turning in results that matched expectations. Car maker DaimlerChrysler edged out forecasts, but warned that the coming quarter would likely see weaker demand.
Unemployment Claims
On the Nasdaq, search engine Ask Jeeves beat expectations for the third quarter, but said the fourth quarter would not meet expectations. The stock lost more than 20 percent on the session on speculation that it would be upstaged by bigger players in the search engine wars.
In the lone piece of economic data released, the Labor Department said initial claims for state unemployment benefits rose last week by 20,000 claims to 350,000, but that the four-week moving average, considered a more accurate reading, fell to its lowest level in more than a month.