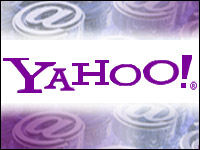 Yahoo has launched a mobile version of its Web, image and local search offerings, a move that opens up a new and wireless battlefield in the search engine wars.
At least initially, Yahoo's mobile search will be stripped of content-relevant ads from its Overture paid listings business, a sign that analysts saw as a desire by the portal to build a customer base among mobile users.
Google recently launched a mobile search service, but it is using a different approach that utilizes short message service (SMS) text blurbs to send and receive search results.
Yahoo COO Dan Rosenweig called the mobile effort a "crucial step" in the overall development of relevant search products and said it is aimed at taking advantage of a growing base of its existing Web users who also use browser-enabled phones and other mobile devices.
Users will be able to do unique searches as well as call up saved searches made from desktops and search Yahoo's collection of 1 billion images. However, analysts said the most useful and relevant features are likely to be the local search feature, which many users employ like an online yellow pages to find nearby businesses, and a series of shortcuts. Users will be able to place calls directly from search results pages, for instance.
In addition, certain keywords entered into a mobile search will automatically lead to specific results, such as up-to-date sports scores, stock quotes or weather or airline flight information.
Different Paths, Same Destination
Analysts say both Yahoo and Google have similar goals: To get their foot in the door with mobile users now that devices are finally getting sophisticated and widely used.
For both, the mobile user will be an extension of the traditional Web search market. It's no surprise that their approaches are different, because Yahoo already offers mobile phone users access to photos and other services that it offers online, while the market is an entirely new one to Google.
Google's SMS approach likely will appeal to younger users who are comfortable with text messaging, while Yahoo's Web approach might make other users more comfortable since it will be a stripped-down version of what already occurs online, Gartner analyst Phil Redman said.
There's a natural tension, he noted, between the desire to make Web searches as comprehensive as possible and getting them minimized enough to be usable on mobile devices.
"The nature of having to type and read from a phone or other device is a major hurdle to just moving what happens online to the mobile arena," Redman said. While younger users are more comfortable with it, the company that finds the best way to move that information will have a leg up in the mobile market.
Linking the searches from the desktop to the mobile device is where the potential seems to lie, he added. "Loyal users are the most valuable kind to advertisers and therefore to Google and Yahoo," he said. "In some ways it's early, but now's the time to start building a following."
In fact, recent data from Forrester Research said that less than 10 percent of U.S. mobile devices in use are advanced enough to handle Web browsing and color images.
Many Fronts, One War
The search wars have expanded in a multitude of directions in just the past few weeks. Google launched a desktop search tool, which immediately sparked controversy because of its ability to scan instant messaging records. Yahoo has made two strategic acquisitions in the e-mail search area in the past two months and this week announced it would work with Adobe, the maker of the Acrobat document reader, to integrate a search tool into that product.
Meanwhile, newcomers are starting to offer new approaches to search, and established companies such as Amazon and Microsoft are vowing to stake their own claims.
"Every one of these moves underscores how broad and deep the search market can go," said Forrester Research analyst Charlene Li. "The companies know the appetite for marketing to users through search is strong enough that they're going to leave no stone unturned."