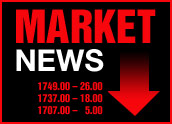 A dip in consumer confidence and concern about an impending batch of economic data helped drive stocks lower today.
Investors largely shrugged off the Conference Board report saying consumer confidence dipped by 2 points for March, to 102.4, the second straight month of declines and a larger drop than expected. The group said the index still showed relative optimism about the state and future of the economy.
Data Pending
However, investors were not in a buying mood, with the March employment data due Friday and other reports that should offer a look under the hood of the economy before then.
A late-session sell-off left the Dow down 79.95 points, or 0.76 percent, to 10,405.70. The Nasdaq fell 18.64 points, or 0.94 percent, to 1,973.88, and the S&P 500 lost 8.92 points, or 0.76 percent, to close at 1,165.36.
Contributing to the decline was a modest rebound in oil prices. Crude futures, which have slid sharply in recent sessions, were up 18 cents to US$54.23 per barrel in New York trading.
New Boss at HP
Some stocks managed to escape being caught in the plunge. Hewlett-Packard saw its shares rise nearly 10 percent after word broke that NCR CEO Mark Hurd would be named to take over the CEO seat at HP in the wake of Carly Fiorina's ousting.
HP later confirmed it was hiring Hurd, who is credited with overseeing rapid growth and deep cost savings at NCR. Shares of NCR were hammered on the news, losing more than 17 percent.
Also higher were shares of MCI after the company said it would take the latest, sweetened takeover offer from Verizon Communications. MCI shares rose about 3.6 percent.