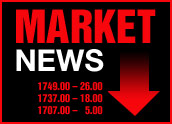 Another day of rising oil prices, an apparently imminent rate hike by the Federal Reserve and corporate earnings warnings conspired to drive stocks lower Monday.
The Fed is widely expected to continue its recent rate hike pattern by boosting a key rate by another quarter-point on Tuesday.
If it comes, the increase would mark the third such hike this year and raise the federal funds rate — also known as the overnight rate because it's what banks charge one another for overnight loans — to 1.75 percent.
On the eve of the Fed decision, stocks were under pressure from bell to bell.
By the close, the Dow was off 79.57 points to 10,204.89. The Nasdaq fared somewhat better, but was still off, shedding 2.02 points to close at 1,908.07. The S&P 500 fell 6.35 points to 1,122.20.
Rising Oil, Falling Earnings
Given almost unanimous consensus that the Fed will act Tuesday, the hike might be priced into the market, allowing rising oil prices and fretting over corporate earnings to weigh on investors' minds.
Oil prices reacted Monday to the announcement that Russia's largest oil producer, Yukos, will halt shipments to China because of its own financial crisis and the continued slow production of oil in the Gulf of Mexico after Hurricane Ivan disrupted operations last week.
Crude futures were up 76 cents to $46.35 a barrel in New York trading.
Other Market Movers
Also on Monday, consumer product makers were in the spotlight, but for the wrong reasons.
Both Colgate and Unilever said profits would be down for the rest of year.
Tech stocks fared slightly better despite another semiconductor company warning, this time from PMC-Sierra.
Another tech standout was Hewlett-Packard, which announced it would buy back around $2 billion worth of its own stock before the end of the year and that its board had authorized it to expand the share buyback program by some $3 billion.
HP shares were up 1.6 percent on the day to $18.41.