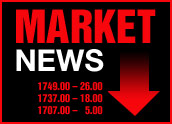 Stocks continued to backslide from their peaks reached at the end of 2004 as a disappointing kickoff to earnings season and warnings from some key technology companies led to another sell-off.
Stocks tumbled during the last hour, with the Dow closing down 64.81 points, or 0.61 percent, to 10,556.22. The Nasdaq lost 17.42, or 0.83 percent, to finish at 2,079.62 and the S&P 500 lost 7.26 points, 0.61 percent, to 1,182.99.
Earnings Reports
Investors awaiting fourth quarter earnings reports might have been rattled by a miss from metals giant Alcoa yesterday and a warning from number two chipmaker Advanced Micro Devices today. AMD shares were off as much as 25 percent today after the company warned that its fourth-quarter operating income would be "down significantly" from the previous quarter even as sales increased compared to last year.
Reporting after the close of trading, Intel might have done enough to ease some investors' concerns. Sales at the leading maker of computer chips rose to a new record level at US$9.6 billion, ahead of consensus estimates. Profit was about flat compared to the year before at $2.1 billion, or 33 cents per share, edging out forecasts by two pennies per share.
Tech in Spotlight
Several other tech firms were the subject of analyst downgrades, including Hewlett-Packard, which shed 3 percent after Morgan Stanley cut its rating, saying that competition from Dell and supply chain inefficiencies would hurt HP earnings.
Meanwhile, the dollar was down 0.2 percent against the euro, and down 0.9 percent against the yen as it continued its long-term weakness, driven mainly by concern about large and growing federal budget deficits.
In the oil markets, crude futures moved gradually higher, rising 35 cents to close at $45.68 per barrel in New York trading.