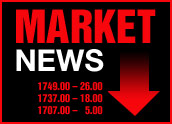 Stocks gave up more ground today amid lingering inflation worries and concern about the apparent discovery of anthrax in some government mail rooms in Washington, D.C.
The Dow Jones industrial average lost 59.41, or 0.6 percent, to close at 10,745.10. The Nasdaq shed 16.06 points, or 0.8 percent, to 2,034.98 while the S&P 500 index gave up 9.08 points, or 0.8 percent, to end at 1,197.75.
Semiconductor Stocks
Tech stocks were dealt a blow after Merrill Lynch issued a warning about growth among semiconductor stocks, saying they would have trouble finding impetus for price increases through much of 2005.
However, the overarching concerns appear to be inflation-related. With oil prices showing little sign of moving off recent high levels, investors are increasingly concerned that price bloating will spread to other areas, which in turn will force the Federal Reserve to be more aggressive in moving interest rates higher.
Fed Chairman Alan Greenspan spoke to Congress today, but said only that inflation is much less of a long-term threat to the U.S. economy than growing budget deficits and structural budget problems such as Social Security.
Good News Overlooked
Oil prices rose again today, gaining 10 cents to $55.05 per barrel in New York Mercantile Exchange trading as investors cast doubt on whether Saudi Arabia could convince its fellow OPEC members to boost output in order to keep prices at affordable levels.
In focusing on the downside of the news, investors set aside a relatively strong retail report. Though the Commerce Department said sales for February were up 0.5 percent, just below forecasts, they revised an already strong January number even higher and said some sectors, including big-ticket items such as automobiles, were especially strong both months.
Also lost in the shuffle was record high earnings from Lehman Brothers as Wall Street banking firms enjoy a resurgence amid increased interest in stocks and merger and acquisition activity.