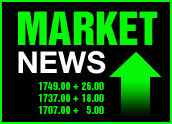 Signs that inflation pressures might have receded somewhat, and with them the threat of dramatically higher interest rates, put investors in a buying mood today to cap what had been another losing week on Wall Street.
The Labor Department said wholesale prices, as measured by the Producer Price Index, fell more than expected last month, dropping 0.7 percent largely thanks to lower oil prices. That report raised hopes that the Consumer Price Index will also show little sign of inflation at the retail level.
Dow Up
The Dow finished at 10,558.00, up 52.17 points, or 0.50 percent for the session. For the week, it was down 0.4 percent.
The Nasdaq finished at 2,087.91, higher by 17.35 points, or 0.84 percent, on the day. The Nasdaq held basically steady for the week as strong earnings from Apple and Intel helped the tech sector.
The S&P 500 gained 7.07 points, or 0.60 percent, today, finishing at 1,184.52. The broad index fared the best over the course of the week, losing just 0.1 percent.
Oil Prices
Also boosting stocks was a report from the Federal Reserve showing that industrial output grew strongly last month, with factories, mines and utilities in the U.S. increasing output by 0.8 percent, outpacing expectations. For the year, the industrial sector posted a 4.1 percent gain, the best showing for a full year since 2000.
Likely acting as a drag, however, was a continued climb in oil prices, with crude futures gaining another 26 cents to $48.30 a barrel. It was the fourth straight day of higher prices for crude futures and oil prices now stand at their highest levels since November and gained nearly 7 percent on the week.