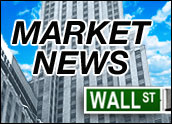 Stock markets were mixed today as investors bought up the blue chips but were more cautious on tech shares ahead of a key update from Intel.
The Dow rose 45.89, or 0.42 percent, to 10,851.51. The Standard & Poor's 500 index was also higher, moving up by 2.24 points, or 0.19 percent, to close at 1,209.25.
Intel Report
The Nasdaq, however, was marginally lower, losing 1.57 points, or 0.08 percent, to finish at 2,059.72 on the five-year anniversary of its all-time high of 5,048 marked on March 10, 2000.
Tech investors were awaiting an after-the-bell midquarter update from Intel. Earlier reports from Texas Instruments and others had spooked investors.
In the report, Intel said first-quarter revenue would come in at the high end of its earlier forecast range of up to US$9.4 billion. It also said profit margin would be higher than previously expected and would come in at 56 to 58 percent. Intel shares gained more than 2 percent in after-hours trading.
Also making investors uneasy was a surprising jump in weekly jobless claims reported by the Labor Department. The weekly total jumped 17,000 to 327,000 for last week, the highest level in two months.
Oil Backs Away
Stocks got a boost when oil prices retreated from recent highs. Crude futures tumbled $1.23 to $53.54 per barrel on the New York Mercantile exchange after flirting with all-time high levels earlier in the week.
One reason cited for the drop was the continued struggle of the dollar, which fell to a nine-week low against the euro today.
Because so much of what American consumers buy comes from overseas, the dollar's poor performance is also a concern for those worried that inflation will soon find its way into the U.S. economic picture.