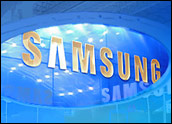 Samsung reported a steep drop in Q3 profits with the release of its quarterly earnings report. Profits fell 44.4 percent compared with a year earlier — a number that, not surprisingly, sent the company's share price tumbling by 14 percent. Net income for the quarter was 1.22 trillion won, or US$863 million.
Although some product lines performed respectably — mobile handsets, for instance, reached 51.8 million units sold — the company could not overcome the industry dynamics affecting its core business: Falling prices for semiconductor chips, coupled with a global glut of product, have sent profits and stock prices tumbling throughout the sector.
Samsung reported that net income for its semiconductor chip division dropped by 74 percent, due in large part to the steep price declines in its DRAM, NAND and LCD businesses.
Industry Woes
Samsung's Q3 performance should be considered within this industry context, the company said, noting that it is the only memory vendor that is still profitable right now.
"The 14 percent drop in the stock price and the 21 percent decline over the past four days probably reflects the broader market conditions more than any company specific developments," echoed Frederic Ruffy, senior options strategist at WhatsTrading.com.
"South Korea's Kospi fell 10.6 percent today," he told the E-Commerce Times. "Samsung got caught in the downdraft."
There were some bright spots in the company's report, he noted: Overall sales rose 15.4 percent to $13.7 billion. Also, even though its net profit of $869 million was down from a year earlier, that's obviously better than a loss. Furthermore, Samsung is counting on continued strong performance in mobile sales, expecting to reach 200 million units sold for the full year.
"So, while Samsung continues to grapple with falling chip prices, the news wasn't all bad," Ruffy said. "It certainly didn't seem to justify a 14-percent drop in the share price Friday."
Post SanDisk
Positioned a little better than its competitors, Samsung does have options to improve performance, Jeff Handy, an analyst with Objective Analysis, told the E-Commerce Times.
Earlier this week, the company dropped its bid to acquire SanDisk, which sent the troubled Milpitas, Calif.-based semiconductor company's shares plummenting.
"It is possible that Samsung might reinstate its offer but at a lower price," Handy said, adding that it wasn't totally clear that SanDisk did not want to be acquired.
"There are a lot of opinions about what SanDisk is doing right now — many of them are polar opposites from one another," he continued. For instance, SanDisk's deal to sell 30 percent of its manufacturing capacity to joint-venture partner Toshiba for about $1 billion could be viewed either as an attempt to groom itself for a better acquisition deal or as a defensive maneuver. Or it could simply have been a way to shore up its financials.
"SanDisk had recently gotten away from its preferred business model of internally producing 75 percent to 80 percent of its chips and outsourcing production of the rest," Handy said. "It had been manufacturing almost 100 percent of its supply, which is too costly for the company."
Leaving aside the possible rebid for SanDisk, Samsung has made it clear there are other avenues it would like to pursue, such as overtaking Intel's semiconductor sales. However, Samsung's efficient manufacturing and supply chain operation limits the markets in which it can compete, according to Handy. For instance, excelling in flash would require a broader variety of products.
"Rather than move into new markets, I think its best bet is to try to expand its presence in existing markets," Handy concluded.