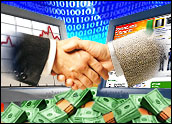 Memory chip maker SanDisk announced Monday it will sell almost one-third of its manufacturing capacity to Toshiba for about $1 billion. The deal comes at a time when the market for memory chips faces severe oversupply.
SanDisk and Tokyo-based Toshiba have been in business together going back several years.
"This is the most significant joint venture in terms of memory chips," Ryan Donovan, a SanDisk spokesperson, told the E-Commerce Times. "It's a multiyear partnership and reflects a couple of different joint ventures. We're restructuring the joint ventures in order to sell about 30 percent of our manufacturing capacity to Toshiba."
Reducing Memory Market Exposure
The primary driver behind the move is the glut of memory chips in the market. Memory chips power everything from digital cameras to mobile phones to MP3 players.
"There's too much supply, and we did this to manage our business," Donovan said. "This reduces our supply, strengthens our balance sheet and gets us to a more flexible supply model. We're achieving about $1 billion in savings in cash and reduced equipment leasing obligations."
SanDisk isn't the only memory chip maker experiencing difficulties. Earlier this month, Boise, Idaho-based Micron Technology announced it would slash 15 percent of its 22,600-employee workforce over the next three years and reduce production of memory chips.
Still in the Picture?
Last month, Milpitas, Calif.-based SanDisk rejected a US$26 per share acquisition offer from Korean consumer electronics powerhouse Samsung as too low. The $6 billion offer valued SanDisk's stock at nearly twice its current share price of $13.83.
Monday's move has given rise to speculation that SanDisk may be on a mission to make itself more attractive to Samsung.
However, SanDisk's Donovan said the decision to restructure its joint venture with Toshiba is not related to Samsung's offer.
"This restructuring has nothing to do with a potential transaction with Samsung," he said. "This is about managing our business."
The move may actually suggest SanDisk is moving further away from a potential deal with Samsung, said Kevin Vassily, an equity analyst with Pacific Crest Securities.
"The fact that SanDisk is only selling a small piece of the joint venture to Toshiba instead of selling all of it to make itself more attractive to Samsung sends the signal that SanDisk wants to stay independent," he told the E-Commerce Times.
The decision to sell some of its manufacturing capacity to Toshiba doesn't necessarily make SanDisk less attractive to Samsung, Vassily acknowledged, but it does complicate things — Samsung and Toshiba are fierce competitors.
There would have to be "an unwinding of these joint ventures with Toshiba for a deal to happen," Vassily said. "Toshiba is not going to want to be in a situation where they are sharing capacity with Samsung — their chief competitor. I don't see Toshiba walking away gladly from SanDisk without getting something for it."
Tough Times at SanDisk
Just about a year ago, SanDisk was flying high as the memory chip market continued to boom.
Now, with a massive glut in the market, the company is trading well below its 52-week high of $48 per share.
SanDisk reports its financial results after the close of the stock market Monday. Wall Street expects the company to report a loss of $.27 per share on $778.1 million in revenue for the third quarter, down from adjusted income of $.54 per share on $1.04 billion in revenue during the same period last year.