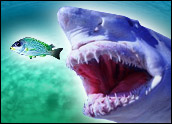 Korean consumer electronics giant Samsung has launched a US$5.85 billion hostile takeover bid of flash memory chipmaker SanDisk.
News of the all-cash offer for SanDisk caused shares of the Milpitas, Calif.-based company to skyrocket more than 40 percent in early morning trading.
SanDisk, which rebuffed Samsung's first offer in May, also rejected its latest bid.
SanDisk to Samsung: Bid Is Too Low
SanDisk declined a request for comment.
However, in a prepared statement released on Wednesday, SanDisk Chairman and CEO Eli Harari said Samsung's unsolicited acquisition offer severely undervalues SanDisk.
"We believe that Samsung's proposal does not provide appropriate value to our stockholders and is opportunistically timed at the trough of an industry-wide downturn," Harari said. "In our view, this proposal fails to recognize the value of our product portfolio."
Flash Memory Market in Trouble
Flash memory chip technology has become ubiquitous over the last several years. It's embedded in many popular consumer electronics devices such as MP3 players, digital cameras and mobile phones. Flash memory drives that plug into laptop and desktop USB ports are also the preferred mode of saving and transferring data today.
However, with the U.S. economy facing a possible recession, consumer spending on such products has been on the decline.
"It's really ugly, and that's why this deal is coming about," Joseph Unsworth, a research director at Gartner, told the E-Commerce Times. "Historically, consumers would stretch their budgets to get the extra gigabytes of memory, but they're not willing to spend for it right now."
As a result, the flash memory market is in a state of deep oversupply, Unsworth said, "and when that happens, prices fall. So, Samsung, SanDisk and Toshiba are selling chips at below the cash cost of making them."
The Time for a Deal Is Now
Samsung's $5.85 billion offer for SanDisk comes out to about $26 per share, a significant premium over SanDisk's current share price, which has hovered in the $21 to $22 per share range.
As recently as May, SanDisk shares were trading at $30 per share, but slumping consumer demand and poor financial results have caused the stock to tumble.
SanDisk's low stock price gives Samsung an advantage in any deal making, at least for the time being, Unsworth said.
"If Samsung is going to do this, now is the time," he suggested. "SanDisk is weak right now, but eventually the memory market will get better and Samsung will lose its leverage."
Unspoken Motives
Samsung has motives for acquiring SanDisk other than the market share the two companies would control if they were to combine, though.
"The reason why Samsung is pursuing SanDisk is that SanDisk is in partnership with Toshiba, and Toshiba has been the real aggressor against Samsung in the flash memory space," Unsworth said. "With SanDisk potentially being swallowed by Samsung, Toshiba could be the real loser here."
Together, Samsung and SanDisk would not only disrupt SanDisk's current partnerships with Toshiba, but they would also control a great deal of the flash memory market, he noted.
Antitrust Concerns
In the end, it could be the regulators that keep SanDisk from getting swallowed by Samsung.
"Somebody is going to acquire or take a major stake in SanDisk," Unsworth said, "but they'll have to get through antitrust issues and regulators, so it's hard to say what will happen. Antitrust concerns could be SanDisk's argument to stop this acquisition."
Samsung has run afoul of regulators before, Unsworth pointed out. "Samsung was also nailed for price fixing in the memory market a few years ago, and someone is sure to bring that up before the regulators."