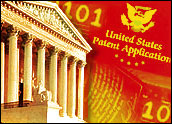 SanDisk filed three patent infringement actions against 25 companies that manufacture, sell and import USB flash drives, CompactFlash cards, multimedia cards, MP3/media players and other removable flash storage products, the company announced Wednesday.
The actions — two filed in the United States District Court in the Western District of Wisconsin and one in the United States International Trade Commission (ITC) –allege that the companies involved have infringed various SanDisk system-level patents.
They seek damages and a permanent injunction as well as a permanent exclusion order from the ITC banning importation of the products into the United States.
Aggressive Action
"These actions demonstrate SanDisk's long-term commitment to enforcing its patents, both to protect our investment in research and development by obtaining a fair return on that investment, and out of fairness to third-parties that participate in our patent licensing program," said E. Earle Thompson, chief intellectual property counsel at the Milpitas, Calif.-based SanDisk.
"Our goal is to resolve these matters by offering the defendants the opportunity to participate in our patent licensing program for card and system technology," Thompson added. "Otherwise, we will aggressively pursue these actions, seeking a prompt judicial resolution awarding damages, obtaining injunctive relief and banning importation of infringing product."
Three Separate Cases
SanDisk is one of the world's largest suppliers of flash data storage card products, using its patented, high-density flash memory and controller technology.
Among the companies being sued in its ITC case are ACP-EP Memory, A-Data, Apacer, Behavior Computer (dba Emprex), Buffalo, Chipsbank, Corsair Memory, Dane-Elec, Edge, Imation/Memorex, Interactive Media (dba Kanguru), Kaser, Kingston, LG Electronics, Phison Electronics, PNY, PQI, Silicon Motion, Skymedi, Transcend, TSR (dba T.One), USBest, Verbatim, Welldone, and Zotek/Zodata (dba Huke).
The same five patents are at issue in that case and in one of the cases filed in Wisconsin. Defendants in the latter case include all the same companies except for Kaser.
The second Wisconsin case, which focuses on an additional two patents, targets a subset of 15 of the companies involved in the Wisconsin cases.
'SanDisk Is Serious'
"This case shows that SanDisk is serious," technology attorney Raymond Van Dyke told the E-Commerce Times. "Concurrent filings in the district court as well as the International Trade Commission demonstrate their strong concern that their patents are being infringed."
The ITC, particularly under section 337, is charged with resolving alleged patent infringements due to importations, Van Dyke added.
"Remedies include exclusionary orders whereby imports from the infringer are excluded from the U.S. market," he noted.
Indeed, a similar ban was issued by the ITC this summer on mobile phones containing Qualcomm technology found to have infringed on patents held by rival Broadcom.
'The Big Stick'
The United States District Court in the Western District of Wisconsin has a "reasonably fast" docket, so filing there is evidence that SanDisk "wants to get things moving quickly," Bruce Wieder, a partner with Dow, Lohnes & Albertson, told the E-Commerce Times.
The ITC also tends to act quickly, he noted, and "exclusion orders are pretty much what you get if you win," he said. Such orders keep the products in question out of the country altogether, never allowing them to pass through customs. "If you want to walk around the neighborhood with a big stick, that's the big one."
Because of the speed involved in both courts, the defendants will be forced to respond quickly, Wieder noted.
"The complainant has all the time in the world to get its ducks lined up and in order," he said. "But when they finally say 'ta-da!' and pull the cover off, the defendants are left scrambling."