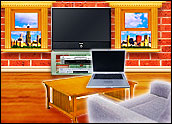 Three months after a messy breakup with Apple's iTunes Store,NBC Universal said Tuesday it will make its catalog of TV showsavailable through a download service made by rival portable device maker SanDisk.
The shows the studio will offer through Fanfare, SanDisk's Web-based download service, include those from its main network along with USA Network, SciFi Channel, Bravo and vintage shows.
Still in beta form, Fanfare offers video that can be downloaded to the Sansa TakeTV device, a flash-based device that can be plugged into the USB (Universal Serial Bus) port on personal computers and then connected to the input source on many television sets.
Developing Enhanced Security
The agreement includes provisions for the company to work with NBC Universal to develop enhanced security measures to protect the video content from being pirated, SanDisk said. Tools being explored include watermarking of content and filtering tools to flag unauthorized content.
"SanDisk is taking a leadership position within the consumer electronics industry with its commitment to protecting content, which marks an important advance for television entertainment in the digital landscape," said Jean-Briac (JB) Perrette, the president of NBCU's digital distribution business.
Fanfare content is offered in both pay-per-show and ad-supported formats. The two companies also said they would work on "new consumer content acquisition models" such as flexible pricing options. For instance, users might be able to gain a discounted price by buying multiple episodes of a single show or a bundle of shows.
iTunes Alums
SanDisk ranks second to Apple in sales of portable media devices and is considered a pioneer in the development of the flash memory technology that has enabled Apple and others to build ever-smaller devices.
The NBC Universal content will begin to appear on Fanfare in January. Shows that will made available for download include "The Office," "30 Rock" and "Heroes" from NBC's prime-time lineup, with new episodes appearing the day after they first air.
USA Network's "Monk," Bravo's "Top Chef" and "Battlestar Galactica" from the SciFi Channel will also be available upon launch, with more content to be added.
Many of the shows were available for download on Apple's iTunes Store until this summer. In August, Apple and NBC said they were severing ties after being unable to come to an agreement to extend their contract to distribute content through the store. At the time, Apple said NBCU was seeking to more than double the price Apple paid for prime-time shows.
The Long-Term Outlook
The SanDisk effort is just one of NBCU's prospective Web distribution channels. The company is also a major backer of Hulu, a video distribution site it is developing with News Corp. That site remains in private beta; however, much of the same content to be made available through the SanDisk partnership is expected to be made available on Hulu as well for direct download and online syndication.
In fact, the formation of Hulu, more so than the prospect of any deal with SanDisk, may have been what gave NBC Universal the confidence to walk away from the Apple partnership, Forrester Research analyst James McQuivey told the E-Commerce Times.
Though some of the shows — particularly "The Office" — regularly ranked as top sellers on iTunes, NBC recognizes that the real value in Web content is in its ability to sell ads to go alongside or inside of that content.
Using iTunes enabled NBC to be on the Web with its content early on and helped prove the viability of the channel, McQuivey said, but the network recognizes that the long-term outlook includes a heavy reliance on ad-supported content. The SanDisk partnership also offers the advantage of allowing users to replay content on their TV sets, he added, something that originally iTunes was unable to offer until the recent debut of the Apple TV device.
Needed Content
SanDisk debuted the TakeTV device earlier this year, not long after Apple rolled out its Apple TV, which is also meant to offer a way for PC-based content to be shown on traditional television sets.
"The key to having this type of device gain mainstream adoption is to have the content that people want available," JupiterResearch analyst Michael Gartenberg told the E-Commerce Times.
The site launched mainly with content from CBS and Showtime, and SanDisk will need to further expand the pool of shows and add movies and other content in order to help drive adoption of the device.
"They've come up with a novel approach to bridging that PC-to-TV divide, and we know that consumers want to be able to move content that way," Gartenberg added. "If SanDisk can build out their video menu and create a system that allows for that content to be played back on other devices PCs or other video players, then it has the potential to become a real contender."