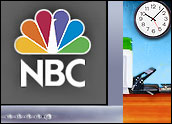 NBC became the latest television network to plant a stake in its own piece of Internet video turf, saying it would make free downloads of first-run television shows available directly to viewers through its Web site.
Known as "NBC Direct," the offering has implications affecting various players in the Web video realm, including Apple, whose iTunes Music Store had been selling episodes of popular shows such as "The Office," and "30 Rock," shows NBC now plans to make available for free.
Apple and NBC had come to loggerheads over the terms of an extended contract to keep those shows on the iTunes store. The current deal expires in December; Apple said earlier this month the shows would not be available this fall after NBC tried to double the prices it was receiving for the shows.
'Viewers Want to Be in Control'
The launch also raises the question of whether the NBC.com content will also appear on the newly named and soon-to-launch video site Hulu.com, a joint venture between NBC and News Corp. that is meant to become an online destination for video downloads.
Amazon.com could be impacted as well, as NBC has already reached a deal to make content available at the e-tailer's Unbox site on a pay-per-download basis.
"We are acknowledging that now, more than ever, viewers want to be in control of how, when and where they consume their favorite entertainment," said Vivi Zigler, executive vice president of NBC Digital Entertainment. "Not only does this feature give them more control, but it also gives them a higher quality video experience," she said of NBC Direct.
Casting a Wide Net
NBC will launch NBC Direct in beta form in October. Other shows to be made available include "Heroes," "Bionic Woman," "Friday Night Lights," "Late Night with Conan O'Brien" and "The Tonight Show with Jay Leno."
Initially, the site will support only direct-to-PC downloads on Windows machines, but the network said it planned to add features over time, including support for other platforms and direct-to-device downloads. Downloaded shows will come packaged with advertising and digital rights management software that enables them to be watched for only one week after they appear on the air.
NBC Direct is built on a closed peer-to-peer distribution platform that will make downloads fast, NBC said, adding that it will also feature a downloadable video player that offers higher resolution than on some other Internet sites. NBC is working on making high-definition versions of the shows available, the company said.
Also planned are a free subscription service in which users can sign up to have their shows delivered to their computers automatically once they become available. Late next year, NBC said, it will offer different pricing options such as download-to-own, rental and subscription plans.
NBC is doing the right thing by testing a variety of outlets for its video content, JupiterResearch analyst David Card told the E-Commerce Times.
Without a clear idea of exactly which model will emerge over the long run, having a number of options for consumers makes the most sense, he added, with a buy-to-own option at Amazon's Unbox and a direct free, ad-supported download option. The Hulu conflict may not be as striking as it appears, meanwhile, since the networks appear to be setting up that site to be mainly a syndicator of video content to third-party sites, not a download destination.
"NBC is wisely experimenting with a variety of distribution channels and payment schemes," Card noted.
Playing Defense
Most of today's Internet video consumers are "media addicts" willing to pay to get their content, a group being joined slowly by mainstream consumers looking for ways to time-shift and catch shows they miss, Forrester Research analyst James McQuivey told the E-Commerce Times.
The move to a free model may be a sign that NBC understands that the paid download market is what McQuivey called a "dead end," with the ad-supported download market set to overtake paid video sales over time.
"Mainstream viewers will be attracted by ad-supported offerings that are easy to use," McQuivey added.
At the same time, he said, having a direct distribution channel helps prevent any single distributor — Apple, for instance — from gaining a dominant market position, which could enable it to set pricing and other terms, much in the way Apple has taken control of the online music market.