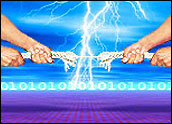 Shares of memory chip maker SanDisk plummeted nearly 31 percent to US$9.91 per share after the bell on the news that Samsung has dropped its offer to acquire the troubled Milpitas, Calif.-based semiconductor company.
Korea-based Samsung first made its $26 per share offer six months ago in a letter to SanDisk's board of directors, which rejected it as too low.
Samsung's decision to rescind its offer follows SanDisk's financial results announcement on Monday. SanDisk reported a third-quarter loss of $155 million, which was well below Wall Street expectations. The company attributed the loss to a massive glut of semiconductors in the memory chip market.
SanDisk also announced on Monday a deal to sell 30 percent of its manufacturing capacity to joint-venture partner Toshiba for about $1 billion, a move designed to decrease its exposure in the memory chip market and shore up its balance sheet.
SanDisk's memory chips are used in a variety of consumer electronics devices — mobile phones, MP3 players and digital cameras, just to name a few.
Is the Dance Really Over?
Despite Wednesday's announcement, the possibility of a Samsung and SanDisk deal might not be quite dead.
"I don't think it's over," Doug Freedman, an equity analyst at American Technology Research, told the E-Commerce Times. "This is only Act 1. [Samsung] has an ongoing business relationship with SanDisk. Samsung pays SanDisk royalties for the use of its intellectual property."
That agreement expires in 2009, Freedman noted.
"Samsung isn't looking to acquire SanDisk for its memory capacity," he said. "When you buy memory capacity, you're buying equipment that has a useful life of three or four years. It's a depreciating asset. They're going to have to come to some kind of agreement regarding their royalties relationship in the next nine to 10 months."
What Samsung Really Wants
Samsung is already the No. 1 maker of memory chips, which makes it unlikely it's after SanDisk's manufacturing capacity.
What Samsung really wants is SanDisk's intellectual property, Freedman said.
"Clearly, Samsung thought SanDisk's intellectual property was important enough to make an offer in the first place," he observed. "I think the market has completely missed that point. You've got the No. 1 guy trying to take out a competitor to get its IP."
However, given the resistance to a deal put up by SanDisk's board, Samsung may have to appeal directly to shareholders in order to get a deal done.
"I think over the next nine months, there will be more activity along this line," said Freedman. At the end of the day, the decision may rest in the hands of SanDisk's shareholders.