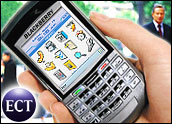 Research In Motion has alleviated — just a little — the worries of 2 million or so BlackBerry users who would be affected if the U.S. District Court in Richmond, Va., should levy an injunction against the service later this month.
RIM said on Thursday that it has developed and tested software workaround designs for all BlackBerry handsets operating on converged voice/data networks in the United States.
A software update called "BlackBerry Multi-Mode Edition" would be able to operate in a mode that would not fall under a potential injunction, according to RIM. Dubbed the "US Mode," it would be activated remotely in the event of a court-ordered suspension of the current BlackBerry service. Until that happens — and it is by no means a certainty — the handsets will continue to operate in "Standard Mode."
The US Mode queues up messages differently, thus working around the technology at the heart of the pending litigation, which NTB claims it patented, explained Raymond Van Dyke, a Washington, D.C.-based partner in the Nixon Peabody law firm.
Success Unclear
The workaround is a legitimate tactic in a patent dispute, Van Dyke told the E-Commerce Times. It remains to be seen how successful it would be, though, even if the District Court in Richmond — where the case was shunted after the Supreme Court refused to hear it in January — were to accept it.
There are too many moving parts to the issue. Any one of these variables, said Van Dyke, a self-described "CrackBerry," could change the scenario at the end. "This has been a complicated — and to a patent attorney, fascinating — case," he remarked.
Three-Plus Year Saga
The BlackBerry-NTB fight has wound its way through the U.S. court system, through failed private negotiations, and even through Capital Hill as members began to fret about what the patent dispute would mean to them personally.
The current situation — although seemingly settled in NTB's favor — is still complicated. Van Dyke explained that the Patent Office is considering new material brought before it suggesting that NTB's patent rights might not be as strong as it claims — or may not even exist — because of pre-existing technology.
This is an action separate from the litigation, he explained. "I have heard though, that this material presents a strong argument."
The PTO process can take a long time to complete, however, and can be subject to dispute and appeal by NTB.
Meanwhile, on Feb. 24, a U.S. District Judge will decide whether to levy an injunction against RIM, holding up a 2002 finding — appealed many times and on many grounds since then — that RIM infringed on NTB's patent.
The judge could decide at the hearing to allow the workaround to be implemented while he takes the matter under further consideration, as NTB is bound to dispute it. Or he could issue the injunction at that time, pending consideration of the workaround. Or, Van Dyke noted, a settlement could be reached at any moment.
"The judge has many issues to de-Solomonize that day," he said.
There are roughly 3 million BlackBerry users in the U.S., but 1 million would be exempt from an injunction, according to the company.