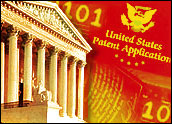 For the second time in less than a year, the U.S. Supreme Court has refused to hear an appeal by Research In Motion, which was hoping to overturn a lower court ruling that could lead to the demise of itsBlackBerry mobile e-mail service in the U.S.
An interruption of service is probably not imminent, with additional steps still to come, but the failure to win a reprieve from the high court increases the likelihood of a shutdown in the coming months or weeks — unless RIM and patent-holder NTP can strike a new settlement agreement to replace an earlier US$450 million deal that a judge ruled is not valid.
Crucial Service
Even if RIM were forced to halt the BlackBerry service, some organizations, including government agencies and private companies working under federal government contracts, would probably be exempted. Plus, a phase-in period would be likely, giving organizations two months or more to make the migration to new systems.
Waterloo, Ont.-based RIM turned its attention back toward the U.S. District Court in Richmond, Va., though it did hold out hope that that the Supreme Court's decision to take up the high-profile dispute between eBay and MercExchange would provide more clarity on injunctions in tech patent cases.
RIM intends to argue in the lower court that an injunction is unnecessary, because it will be able to provide appropriate compensation in the event NTP's patents hold up during reviews now underway.
"RIM believes these factors should hold significant weight in any decisions relating to an injunction. However, it will ultimately be up to the courts to decide these matters, and there can never be an assurance of a favorable outcome in any litigation," the company said.
End Game?
The Supreme Court was a long shot, RIM acknowledged. It only takes a fraction of all cases brought before it, and it rarely reverses itself and takes a case after declining it once. The Court had already turned RIM down in 2005.
Still, the appeal appeared to be one of the company's best opportunities to forestall any limitations on its services in the United States, which accounts for some 70 percent of its total market. RIM had raised a new issue — whether the District Court was attempting to extend the reach of U.S. patents outside the nation's borders; RIM operates its BlackBerry service primarily from its headquarters in Ontario, Canada.
The decision against taking up the case "closed the final path for RIM to avoid liability for the infringement," NTP suggested.
NTP's claims may yet be overturned by the U.S. Patent and Trademark Office, RIM believes. The agency has begun a review and has already nullified some patents, although those preliminary rulings themselves are subject to appeal.
The judge who threw out an earlier $450 million settlement between RIM and NTP has already told RIM that it would not receive a stay pending the outcome of the patent reviews, Gartner analyst Ken Dulaney told the E-Commerce Times.
A settlement is still seen as the most likely outcome. However, even if a settlement is not reached, RIM may be able to save its BlackBerry service in the U.S. by implementing a work-around, Dulaney said, though there is skepticims over how well such a bypass would work.
Gartner has already advised clients considering large-scale BlackBerry deployments to wait for the case to resolve itself, if possible. Many businesses appear to have heeded that counsel, as evidenced by RIM's weaker third-quarter results in December.
"There will be time to react, but it's important to plan for the contingencies ahead of time," Dulaney said.
Pending Patents
RIM now must hope that the patent office, which has agreed to a special expedited review of all NTP patents involved in the dispute, can complete its review quickly enough to avoid any shut-down deadlines from the district court.
BlackBerry has an estimated 3 million U.S. subscribers — the majority of them business people who use the service to keep in touch via e-mail while traveling.
While it remains dominant in the segment, BlackBerry's position is increasingly threatened by improved smartphone technology, new product rollouts from Microsoft and Motorola, and distraction caused by the NTP dispute, which has dragged on for more than four years.
"It doesn't get any easier for RIM because more companies want that mobile-messaging business," telecom analyst Jeff Kagan told the E-Commerce Times. "The market they had to themselves is now something everyone wants a piece of."
Much of the consolidation trend in the wireless communications field in the past year has been driven by a desire among phone companies to offer more services — including mobile data management such as remote e-mail — to corporate customers, Kagan noted.