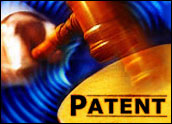 Suggesting the patents at the heart of an adverse court ruling that could force it to shut down or alter its BlackBerry e-mail service are without merit, Research In Motion said it would continue to battle NTP in the courts and at the U.S. Patent and Trademark Office.
The defiant tone sounded by RIM Chairman and Co-CEO Jim Balsillie suggests RIM may be less inclined than some analysts believe to settle its longstanding feud with NTP, which won a patent infringement case against RIM and could be granted an injunction that would force RIM to change the way it offers its mobile e-mail service.
NTP "has been aggressively working to exploit the burdens of the U.S. patent system," Balsillie said in an opinion piece first published in the Wall Street Journal.
NTP has been dragging out an investigation into the patents it claims RIM violated, Balsillie charged. RIM would agree to pay "reasonable" licensing fees if the patents are upheld upon review, he pointed out.
The patent office earlier this year issued a preliminary ruling declaring five NTP patents invalid and more recently issued what it called a "non-final action" rejecting two of the five patents.
Meanwhile, a U.S. District Court judge has refused RIM's request to hold off on deciding whether to issue an injunction against the company until after the patent office completes its review. Though the patent office said it is handling the matter with "special dispatch," appeals could take years to wend their way through the courts.
New Settlement Still Seen
RIM's defiance can be read different ways, but the most likely outcome remains a new settlement, according to analysts. NTP had agreed to accept a US$450 million payment from RIM to settle the case, but a judge threw that proposal out.
A new deal will likely cost BlackBerry closer to $1 billion, and reports published last week suggested that NTP was seeking between 5 and 6 percent of all BlackBerry revenues going forward.
RIM, which has explored a variety legal options, suffered a serious setback when the U.S. Supreme Court refused to take up its case. The company may try to get the high court interested again, though it acknowledges that second-chance reviews are rarely granted.
Meanwhile, RIM has yet to announce a proposed workaround or alternative operational plan in the event that an injunction is issued. Such an injunction likely would have a phase-in period and exempt some users — such as government workers and contractors — but there is concern among some analysts that RIM has not disclosed how its plan would work.
RIM is "pretty close" to being ready to reveal the solution, Balsillie said yesterday.
High Stakes
The stakes for such a workaround are growing higher, as leading research firms, including Gartner, have begun to recommend to clients that they hold off on new BlackBerry implementations until the workaround is revealed and can be independently evaluated, or a settlement is reached.
The most recent legal setback, in which a judge said he would not await the patent office review, boosted the chances for a speedy resolution — possibly by the end of the year, said Gartner analyst Ken Dulaney.
"Such an agreement would be in both companies' interests, and any long-term negative impact on RIM would likely be minimal," Dulaney said. He called a workaround alternative "highly problematical, because the details of the workaround remain secret." The alternative could face its own legal challenges, he added.
The RIM case is casting new light on the state of the U.S. Patent and Trademark Office. Cases such as this hark back to a time when the office was quick to grant patents, largely because it was being deluged with Internet, mobile and other technology-related applications throughout the 1990s, and low-paid patent clerks who rarely knew much about the technology behind the applications often were responsible for making decisions.
Hundreds — or thousands — of patents may have been sought and granted during a time when the office was understaffed and otherwise ill-equipped to handle the flood of requests, attorney Steven Frank of Goodwin Procter told the E-Commerce Times.
"The result is an enormous potential now and into the future for legal entanglements over patents," Frank said.
The situation could become even more difficult, he added. If the patent office should begin to reverse course by removing earlier patent grants — as it seems poised to do in the NTP case — that could prompt more companies to seek re-examinations and appeal patent rulings to the court system.