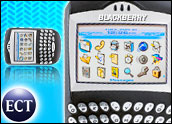 After months of adverse court rulings in the U.S., Research in Motion (RIM) won a key decision from a patent court in the United Kingdom and may get help from the U.S. government in avoiding an abrupt shutdown of its BlackBerry mobile e-mail service.
In the UK, RIM said a patent court had ruled that patent claims made by a firm called InPro were not valid. InPro may appeal that ruling. The same technology was ruled to be ineligible for a patent late last month by a court in Germany, RIM noted.
DoJ May Help Avoid Shutdown
Meanwhile, in the U.S., RIM may have an unusual ally in the Justice Department, which is expressing concern about how a shutdown would be conducted. Government agencies would be exempt from any shutdown, as would private contractors for those agencies. But the Justice Department said in a court filing that a hearing may be needed to judge the full impact of turning the service off to determine the best course of action.
"There are still a number of serious questions to be answered as to how an injunction can be implemented so as to continue Blackberry service for governmental and other excepted groups," the Justice Department wrote in its court filing.
The patent office ruling in the U.S., also subject to appeal, bolsters RIM's claim that some of NTP's key patents — including a majority of those at the heart of its claims against the BlackBerry service — will not stand up under closer review.
RIM noted that the review process is taking into account so-called prior art, or evidence that similar technology was in development at the time the patent was granted, that was not considered during the trial that led to RIM being found liable for patent infringement.
The news was a welcome reprieve for both Waterloo, Ont.-based RIM and the millions of users of its BlackBerry mobile e-mail service, which still faces the threat of being shut down by a court ruling that RIM violated patents held by NTP.
Long Way to Go?
RIM still faces a Feb. 24 hearing on NTP's request for an injunction barring RIM from operating the BlackBerry service in the U.S., its largest market by far. There are other forms of urgency in play as well, as reports suggest users exploring alternative sources of push e-mail that do not rely on the BlackBerry technology.
The UK ruling was seen having a minimal impact on RIM, since the major threat it faces is from NTP's patent claims. Whether the patent review process will be enough to stave off shutdown of the BlackBerry service is also unclear, though RIM got additional backing for its claim that shutting off the e-mail service would be an undue hardship for many.
The U.S. Supreme Court has twice refused to take up RIM's appeals, which has left the case squarely in the hands of the circuit court where the firm was found to have poached on the patents.
The Justice Department's involvement may help bolster a new scenario, one that avoids a full shutdown. Under the scheme the DoJ floated in its filing with the court, new subscribers would not be allowed to sign up for the original BlackBerry service but could be offered the work-around version RIM is said to be developing. Existing customers would remain on the current technology, with RIM paying a royalty to NTP for each existing customer.
A settlement along those lines is still the most likely outcome, Gartner analyst Ken Dulaney told the E-Commerce Times, but a final solution could still be a year away.
Gartner is telling clients to determine how urgent new deployments of the BlackBerry technology are and what their tolerance for risk is before proceeding. If they can't afford to strand their investment in the technology, it may be best for them to wait to see how the situation plays itself out, Dulaney said.
"There are still a lot of moving pieces that have to fall into place and it's going to take time for that to happen," he added.
In the Spotlight
Meanwhile, the mobile e-mail patent wars have spread to include other firms, with Visto and Good Technology now locked in a similar dispute.
Those types of disputes will likely spread as the technology moves from small vertical niches where it has been in use for several years into the mainstream as prices of both hand-held e-mail readers and smartphones plunge and as monthly data services become more affordable to the average person.
"This technology was in the enterprise and tucked away from sight for a long time," telecom analyst Jeff Kagan told the E-Commerce Times. "Now that it's hitting the mainstream, the similarities among the technologies are coming to light and everyone's realizing how enormous the potential market is going to be."