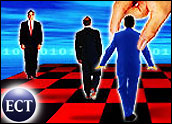 Research In Motion (RIM) will take a US$250 million charge to reduce previously reported GAAP (generally accepted accounting principles) earnings going back to 2004 to account for backdated stock options.
The Canadian wireless device maker is reshuffling management as a result of the restatement, with co-CEO Jim Balsillie stepping down from his role as chairman, but retaining his other corporate titles.
RIM Chief Financial Officer Dennis Kavelman will become the company's chief operating officer, administration and operation. Brian Bidulka, who is currently vice president and corporate controller, has been appointed chief accounting officer and will serve as senior financial officer. He will also be responsible for administering RIM's stock option program until someone new is hired.
A Serious Matter
"Speaking on behalf of the board and the senior management of RIM, we are treating this issue very seriously and have already made significant progress in rectifying this matter. We are also committed to evolving our processes to be consistent with our philosophy of achieving excellence throughout RIM's operations," noted Balsillie and Mike Lazaridis, RIM president and co-CEO, in a joint statement.
Balsillie and Lazaridis have also volunteered to help RIM defray costs incurred in connection with the review and restatement by contributing up to CA$5 million (US$4.2 million) each.
Time Line
Last September, RIM announced it would audit its stock options grants following an internal review of about 3,231 grants of stock options made between December 1996 and August 2006 to 2,034 employees and RIM's directors.
Ernst & Young conducted the audit; Lazaridis and Balsillie, as well as COOs Don Morrison and Larry Conlee, were involved in the granting of options.
Last December, RIM's board adopted an interim option granting process, pending the review's completion, whereby all stock options included during a fiscal quarter would be issued and priced quarterly and approved in advance by the compensation committee or the board.
Stock Drops, Then Rebounds
After the firm made the announcement Monday, RIM shares came under pressure, at first dropping to $131.18 but then rebounding from the first lows. The stock midday on Monday was off by about $1.50 to $134.47, Frederic Ruffy, an analyst with the investor education firm Optionetics, told the E-Commerce Times.
While the restatement of financial results is clearly bad news since the firm will lower past earnings results, it could have some positive implications for the future if the problems have motivated important corporate changes, he added. "This could give investors greater confidence in the long-term outlook for Research In Motion," Ruffy suggested.
"The stock might be finding some buyers on the view that the troubles with the stock options grants are not likely to resurface again in the future," he continued. "The company said that it found no intentional misconduct on the part of those responsible for the stock-option program and that it is implementing changes to its board and audit committee."
Lasting Impact?
RIM's long-term prospects are indeed good, despite the short-term setback resulting from the restatement, H. David Sherman, an accounting professor at the College of Business Administration at Northeastern University and former member on an advisory task force of the Financial Accounting Standards Board, told the E-Commerce Times.
"[This problem] has impacted many companies in the technology and other industries, and except for some tax elements, it is mostly a non-cash charge and really does not change the value of the business," he stated.
The other part of the cost is the professional fees to investigate the option valuation and the audit of the restatement, Sherman added, noting that some of this will be covered by the executives at RIM — a move that he believes executives at similarly affected businesses have not yet taken.