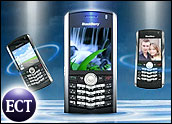 After dominating the business handheld e-mail market, Research In Motion unveiled its follow-up act: high-end consumer smartphones.
In September, the company announced the BlackBerry Pearl, its first device equipped with a digital camera and an MP3 player. The shift appears to be a natural progression for the company, with the new device likely to garner significant acceptance. However, it's also possible that it could dilute company resources, making RIM vulnerable in the highly competitive handheld market.
To date, RIM's success stems largely from its keen focus. Whereas other suppliers built voice cell phones for the consumer market, RIM delivered a robust, portable, corporate e-mail system, the BlackBerry, which is a closed product. Since RIM provides all of the pieces (hardware, applications, synchronization software) along a connection, it can offer higher availability and stronger security than other handheld products.
Consequently, users have come to expect 99.95 percent availability from their BlackBerries.
Unlike general-purpose handheld operating systems such as Microsoft's PocketPC and Symbian, the BlackBerry has not attracted a lot of attention from hackers, so there have been few instances when it has been compromised. As a result, the BlackBerry has become a commonly used and widely trusted system among executives, lawyers, doctors and stockbrokers.
Also, because RIM controls all of the pieces, putting a BlackBerry network in place and maintaining it has been easier than alternatives. While the initial cost of a BlackBerry can be higher than that of competing devices, it often does not require as much ongoing maintenance as other products.
The Gold Standard
These features led to market domination. "RIM has been the corporate standard for wireless e-mail," said Bill Hughes, a principal analyst at market research firm In-Stat.
With competition in the cell phone market intense and growth rates slowing down, consumer cell phone vendors cast their eyes longingly at RIM's cash cow.
Motorola has been pushing its Moto QWERTY phone, which supports Microsoft's Exchange 2003 e-mail server, as well as a variety of third-party e-mail solutions.
As evidence of its interest in the business e-mail market, Nokia in February 2006 acquired Intellisync, a company that makes wireless messaging and application software that enables mobile devices to exchange information more easily.
As these companies started to encroach on its territory, RIM felt threatened and decided to respond in kind.
In addition to extensive wireless e-mail features, the BlackBerry Pearl, which weighs just 3.1 ounces, comes with 64 MB of built-in flash memory, a music player and a camera. It also features SureType, RIM's predictive text technology that makes it simpler for users to enter data on such a small device. The Pearl supports maps, instant messaging and picture-based caller ID.
"A hidden plus for RIM is, it could provide end-to-end solutions — for example, direct Pearl-to-Pearl messaging," noted Ira Brodsky, president of market research firm Datacomm Research.
T-Mobile on Board
RIM also signed up T-Mobile to offer Pearl cellular network services. Rather than the US$50 monthly cost found with BlackBerry services, consumers can exchange information via Pearl for $20 per month.
The move into a new market offers RIM some potential. "RIM knows that just one percent of the consumer market is significant when compared to the enterprise/professional market," Brodsky told the E-Commerce Times.
The mobile e-mail market is small, around 10 million users worldwide, compared to the cell phone market, where manufacturers are expected to sell more than 1 billion devices in 2006.
However, the company faces some challenges in making its mark in this space. Some individuals are not enamored with the BlackBerry Pearl's keyboard and SureType predictive text features. The device's 1.3 megapixel camera is at the low end of current capabilities, with a growing number of phones coming equipped with 3.2 megapixel cameras.
T-Mobile's data services are not as fast as networks offered by competitors such as Cingular, Sprint, and Verizon.
Any Takers?
The most important issue is finding customers for the system. At less than $200, the BlackBerry Pearl is priced lower than traditional BlackBerries but more than most cell phones.
"RIM is targeting the pro-consumer — individuals who need a phone for business purposes as well as personal communications," observed Neil Strother, research director for mobile devices at The NPD Group.
RIM faces formidable competitors in this space, though. Nokia and Motorola have emerged as market leaders, selling hundreds of millions of cellular handsets. They could use their huge bases to drive down costs and undercut pricing for the BlackBerry Pearl.
In addition, companies such as Ericsson and Samsung have had success in the consumer market and will try to defend their turf.
As RIM tries to broaden its base, the question of resources becomes key. "I think the company is making a strategic mistake and will end up hurting itself in its traditional market, as well as in entry into the consumer space," Hughes told the E-Commerce Times.
RIM may not be as focused on its corporate e-mail users as it was in the past. Competitors may find it easier to make greater inroads into that space. Also, the entry into the consumer space may require a great deal of time, effort and resources — something RIM, as a smaller supplier in comparison to its competitors, may struggle to provide.
The vendor unveiled the BlackBerry Pearl in time for the holiday buying season. Its performance during the next six to 12 months will foreshadow whether the company's change in focus will put it on the road to prosperity or ruin.