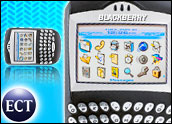 Less than two months after settling its longstanding legal battle with NTP for more than US$600 million, BlackBerry e-mail reader maker Research In Motion has been slapped with another patent infringement action, this time from rival Visto.
Like NTP, Visto is seeking an injunction that could force the shutdown of the BlackBerry mobile e-mail service in the United States as well as undisclosed damages, though the company emphasized it was interested in other solutions.
Birth of the Industry
Visto filed the suit against RIM just days after winning a jury verdict against another mobile services firm, Seven Networks. In that case, a jury found Seven guilty of willful infringement of several Visto patents.
"Friday's sweeping decision against Seven Networks validates our claims that Visto's intellectual property serves as the basis for this industry's birth," said Visto CEO Brian Bogosian. "There was no ambiguity in the jury's decision. Likewise we believe that RIM's infringement of Visto's technology will be halted.
"Under the law, which protects consumers from products that contain infringing technology, RIM should not be able to sell the BlackBerry system," he added.
In a statement, RIM said it has been "monitoring" Visto's earlier suits against the likes of Microsoft and Good Technology, among others.
"RIM believes Visto's patents are invalid," the company said. "Visto's patent claims as directed against Seven Networks refer to a different type of system than RIM's technology. RIM believes it does not infringe Visto's patents and will file its legal response in due course. In addition to challenging validity and infringement, RIM will now also consider asserting its own patents against Visto."
After digesting the news, investors seemed largely unfazed. Though RIM's stock initially fell, the shares were up slightly in early trading Tuesday to $73.05 per share.
More of the Same?
RIM went on to say it is "fully prepared and equipped to deal with the matter" and that it expected no disruptions to customers. It noted that it would likely be the middle of next year before any substantive court proceedings took place on the action.
Visto said it would aggressively pursue all of its legal actions, however, and pointed to the Seven Networks verdict as evidence that it had a hand in developing today's mobile e-mail market. In that case, a jury awarded Visto just under 20 percent of Seven's product revenue from infringing services, or about $3.6 million.
"Patents ensure that companies which create technology and truly foster innovation will not be harmed in the market by competitors that infringe on our technology," Bogosian said.
Visto said three of the patents involved in the Seven Networks case are also the focus of the RIM case, including patents for methods of "securely synchronizing multiple copies of a workspace element in a network," for "globally and securely accessing unified information in a computer network" and for "using a workspace data manager to access, manipulate and synchronize network data."
Visto's push e-mail technology is offered through smartphones on several major wireless carriers' networks, including Cingular, Sprint Nextel and Rogers Wireless.
Back to the Future
Some legal experts had said throughout the battle with NTP that one of RIM's concerns was that a generous settlement would lead to additional actions from other patent holders.
"In the technology space, successful companies often find themselves targeted for patent actions," David A. Roodman, a partner and co-chair of the Intellectual Property Group at the international law firm Bryan Cave LLP, told the E-Commerce Times. "When a successful company has already displayed a willingness to settle cases, that only helps paint even bigger targets on their backs."
The NTP case only became a major concern for RIM after it had percolated for more than four years and after the U.S. Supreme Court declined to take RIM's appeal of lower court rulings. A similar time frame would put the critical time frame for Visto actions some time around 2010 or beyond.
Still, there was considerable fallout from the NTP case, with RIM reporting last month a weak first quarter and citing customer uncertainty in the face of the legal turmoil as a major factor.
Many enterprises had delayed deployments of the BlackBerry pending the outcome of that case, which had RIM under the threat of shutdown in the U.S. for several months, Gartner analyst Ken Dulaney said. He added that it was too early to tell whether the new case would have the same fallout over time.