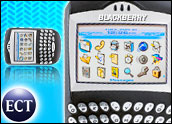 Research In Motion continued to score victories at the U.S. Patent and Trademark Office this week, with another disputed patent held by NTP ruled to be invalid — but the BlackBerry service faces a critical courtroom showdown on Friday.
That's when a judge will hold a long-awaited hearing on whether to issue an injunction requiring at least the partial shutdown of RIM's BlackBerry service in the U.S., an injunction NTP has said it is entitled to since a settlement of a patent-infringement victory it won against RIM more than three years ago was tossed out of court.
U.S. District Judge James Spencer will likely take testimony from lawyers for NTP, RIM and the federal government during the hearing and could issue a ruling as soon as later that day, though the decision timeframe is expected to stretch into next week or longer.
Research In Motion has consistently downplayed the risk of an injunction, recently formally releasing details of its work-around that it says will let BlackBerry users download software to keep them connected to their e-mail servers even if its current technology is forced to go black.
Still, given the risks for RIM, most observers have been predicting a settlement would be reached long before the time when an injunction could be issued. RIM has already exhausted most of its legal options, twice asking the U.S. Supreme Court to take up its case, a request denied both times.
Shares of RIM stock were down nearly 2 percent, or US$1.33 to $71.81 in morning trading Thursday.
Patent Disputes
RIM may be more willing to take its chances given the victories it has been scoring at the patent office, which again this week issued rulings saying that patents initially given to NTP do not hold up on more intense review.
The Patent Office issued a so-called final determination that the last of five NTP patents involved in the dispute with RIM is invalid. That ruling can be appealed, first to a Patent Office review panel and eventually to the federal court system, potentially delaying a final outcome for years.
NTP has assailed the Patent Office proceedings. In a statement issued Thursday, the company said RIM had manipulated the review process and caused the agency to make a number of unusual and precedent-setting moves.
"NTP believes that RIM has utilized its money, power and political influence to overcome its complete defeat in the court system and to inappropriately influence the U.S. Patent Office process," the company said. "RIM's actions underscore the lack of merit in RIM's legal positions. NTP seeks only fair proceedings. Permitting patent reexaminations to be influenced by lobbying efforts of a losing willful infringer destroys fairness in the patent system for any and all companies."
NTP has noted that the patents withstood challenge during the original trial that ended with its ruling against RIM, while the BlackBerry maker said the new rulings were based in part on new evidence not considered in the 2002 trial. "The rejections from the Patent Office were all based on multiple grounds, required the unanimous agreement of three senior patent examiners and are expected to withstand all future appeals by NTP," Research In Motion said in its own statement.
Settlement Watch Continues
Meanwhile, RIM may have another key ally in its fight against an injunction. Government lawyers are expected to argue Friday that any shutdown should be delayed to allow businesses to change their systems and should exempt federal agencies — heavy users of the BlackBerry — and contractors who work for them.
That request, contained in documents filed by the U.S. Justice Department leading up to the hearing, has caused some discontent among businesses, especially smaller firms who feel their interests may not be represented during the proceedings.
The software-based workaround unveiled last week by RIM seems to have the potential to offer seamless service to customers and avoid major shutdowns, said Gartner analyst Ken Dulaney. He added, however, that NTP could challenge the validity of any workaround once it was put in place, potentially causing more legal snarls.
"RIM's claim that the work-around is free of any legal issues is only an opinion," Dulaney told the E-Commerce Times. Even if it passes legal muster, the changeover would require significant time to implement in companies with sizeable BlackBerry deployments. Given the complexities, the work-around may be at least in part a "negotiating tactic" aimed at leveling the table in settlement talks.
"Settlement of the case remains the most likely outcome," Dulaney added.