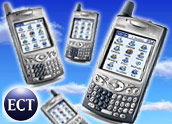 With some legal victories and a new technical workaround, the prospects are looking brighter every day that Research in Motion's BlackBerry mobile e-mail service will run without interruption.
Still, many businesses have spent part of the past year of legal turmoil and uncertainty searching for alternative solutions to the BlackBerry. What they have found is that while options are available, most don't have nearly the same track record of performance.
In fact, few options, even those on the Treo hand-held device or those that rely on Web-based technologies and Microsoft's mobile platform, have not been battle-tested the way BlackBerry has over the past decade.
That will likely change in short order, however, as a new wave of technologies provides far more options for mobile workers and executives. In fact, the turmoil over the BlackBerry may even help to bring some newer solutions to market faster.
Still, many who work with BlackBerry-dependent companies have undertaken searches for back-up plans they hope to never put into place.
"We've told the clients we advise on digital communications and marketing strategies that the BlackBerry suit is a tempest in a teapot," said Cesar Brea, global practice leader at Marketspace, the CRM strategy and advisory unit of Monitor Group. "There's too much money involved for the service to go dark."
Welcome News
It has been a roller coaster ride in recent weeks for BlackBerry devotees, as the service has at times seemed on the brink of shutdown only to be pulled back by legal maneuvers — the Justice Department has expressed concern about what a blackout would do to government agencies and their private sector partners — and technological fallbacks in the form of a workaround solution released recently by RIM.
Brea told the E-Commerce Times that while push e-mail such as the technology used by the BlackBerry was "more exotic a couple of years ago," new technologies promise to offer far more options. "We're on the verge of a bunch of new high-speed connection technologies for mobile devices — WiMax, CDMA2000/EV-DO, among others — that will erode the edge" of the BlackBerry, he added.
Still, businesses may be especially eager to find alternatives to handling documents, presentations and other data now often attached to messages read with the BlackBerry, he said.
That search could be frustrated by additional patent disputes and other legal action, however. Microsoft's own mobile e-mail platform has come under some patent pressure, for instance, and with NTP, GoodMail and others aggressively defending what they consider their intellectual property, additional entanglements are likely.
Some businesses have already started such migrations, however, with the main beneficiaries to date the Palm (Nasdaq: PALM) Treo and the Hewlett-Packard iPaq, according to industry watchers.
Brian Beeler, president of operations at TechnologyGuide.com, told the E-Commerce Times that he has shifted from the BlackBerry to the Treo 700w and that because of the prevalence of Exchange-based e-mail solutions, such migrations are fairly easy. "Organizations on Exchange or other mainstream e-mail systems won't have a problem migrating to more traditional smartphones," he said.
More Than Just E-Mail
Other vendors clearly have their sights set on the same market, hoping the BlackBerry situation creates new opportunities. Nokia, for instance, recently purchased wireless e-mail management firm Intellisync to target customers who want continuous access to their messages.
Meanwhile, one of the more sensitive aspects of the BlackBerry dilemma is the exception being sought for government agencies and their contractors. Some businesses feel that approach ignores the potentially adverse economic impact of a service shutdown on the private sector.
Al Smith, president and co-founder of Apresta, which makes software that lets businesses access a range of corporate data using their BlackBerry devices, told the E-Commerce Times that the implications of a shutdown would go beyond just leaving traveling executives craving their e-mail fix.
"What we find in the marketplace is increasing awareness of the further potential beyond e-mail of the BlackBerry and other hand-helds," he said. "Many of our customers are using the device to check inventory, to put in orders from the road. They're starting to become very dependent on it and used to using it for that as well."
Those same services will work on other devices, Smith noted, but corporate users are hooked on the BlackBerry because it was the first device to offer such a broad range of functionality.
"There are alternatives, but I think it's a case of market penetration," he added. "The BlackBerry was the first mobile device out there with the ability to do e-mail and a large section of corporate America is addicted to it. I would expect to see advances in the technology from other vendors, but the first-mover advantage for RIM will continue for some time."
Microsoft and Palm have worked together to produce increasingly strong offerings, for instance. "I expect to see them gain some level of penetration, but the enemy never sleeps. RIM will work to improve their device as well and they may have a leg up on the security front," Smith said.