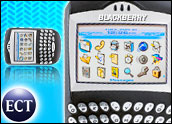 Research In Motion begins the week with one of the biggest hurdles the company has faced behind it, thanks to a US$612.5 million settlement with patent holder NTP, a deal that averted a possible shutdown of the BlackBerry e-mail service in the U.S.
With more than nearly six years of legal turmoil put to rest, RIM can now focus on the challenge of defending its position at the top of the corporate mobile e-mail market. The hits it took while its users faced an uncertain future have given competitors a boost and made some of them more aggressive.
The Right Thing to Do
Observers widely agreed that RIM was wise to finally settle the legal entanglement with NTP, which has lingered since 2002, when NTP won a jury verdict on a suit it filed in 2000. Since then, RIM twice had appeals to the U.S. Supreme Court, had several of NTP's patents ruled invalid by the U.S. Patent and Trademark Office and the two sides engaged in countless other legal maneuvers that analysts said were starting to detract from RIM's business focus and had customers worrying their beloved BlackBerries would go dark.
"It's about time," telecom analyst Jeff Kagan told the E-Commerce Times, summing up the thoughts of many who have followed the case. "It's about damn time. This problem has been festering for way too long. It has upset customers and hurt BlackBerry, but at least it is over."
RIM agreed late Friday to pay NTP $612.5 million, an amount that covers all past use and any future use of NTP's disputed patents. Investors were quick to back the settlement. In after-hours trading Friday and Monday morning, RIM shares shot up nearly 15 percent to $82.35.
Kagan and others say RIM emerges from the battle with NTP in good shape to expand its reach and capture even more of the market for mobile business users. It also faces more competition than ever, with the NTP dispute used by many competitors and purveyors of alternative technologies as an opening to ramp up marketing efforts and speed technology through the development process.
"Competitors who have been salivating over the potential opportunity of gaining new customers if BlackBerry went down have to be disappointed, but this is a better ending for customers, companies and everyone," Kagan added.
Case Closed
Millions off U.S.-based BlackBerry users had faced an uncertain future, with a software-based work-around said to be ready to go if a judge granted NTP's request for an injunction against RIM. A hearing on the injunction ended a week before the settlement was reached, with the judge overseeing the case urging the sides to revive talks toward a deal.
The agreement took as long as it did to be consummated because RIM was seeking a final deal to cover all patents in the past and going forward, said Jim Balsillie, co-CEO at RIM.
In a conference call, Balsillie said RIM believed if it was going to make a significant payout, it needed to put the case truly to rest. "We really did this to give certainty, and calmness and comfort to our ecosystem," he said.
RIM also acknowledged the legal turmoil had damaged its business and said the uncertainty seemed to have taken an even bigger bite in its fourth quarter than it was anticipating.
RIM said it expects new subscribers for the fourth quarter to be between 620,000 and 630,000 — well below the 700,000 to 750,000 range given in December.
"While some uncertainty was anticipated in December, the overall impact was greater than previously anticipated," the company said. "Customer uncertainty surrounding the NTP litigation mainly impacted software and hardware revenue."
Revenue was said to be about $560 million, again below the $590 million to $620 million range in the first forecast. RIM reports formally on April 6.
RIM will not face a substantial hit to its cash, however, as it had set aside some $450 million in preparation of an eventual payout. Some analysts had predicted a settlement would cost the company closer to $1 billion.
Up Next: Microsoft, Palm and Nokia
As it turns its attention back to competition, RIM will find much more vigorous competition than in the past, with Microsoft leading the way.
Microsoft's Mobile platform offers enterprises the ability to push e-mail to mobile devices through the Exchange server system. Visto and Good Technologies also offer similar services that let mobile workers access corporate messages from the road.
Meanwhile, Nokia has continued to win converts to its line of smartphones and Palm's Treo smartphone is winning many converts as it continues to evolve. Some also see a threat from enterprise computer makers, such as Hewlett-Packard, whose iPaq line of devices run on Windows Mobile.
Many of those devices still don't offer the same functionality for e-mail as the BlackBerry, but over time, that will matter less. As more business applications become accessible from hand-held devices, platforms such as Windows Mobile that are able to offer access to more enterprise information may win out.
The battle will likely not be for BlackBerry users, who are by all accounts a devoted and some might say addicted group who aren't likely to give up their devices willingly. Rather, analysts see a bigger war being waged for the tens of millions of business customers, especially smaller and mid-sized companies, that have not yet adopted a mobile platform.
RIM wasted no time, saying on Monday that it would make available by the end of March an expanded set of developers' tools meant to enable users to employ the BlackBerry for additional enterprise uses, including corporate instant messaging platforms such as those from Lotus, Novell and Microsoft.
Rich Koch, vice president of marketing for Apresta, which makes enterprise software that works with the BlackBerry and other devices, told the E-Commerce Times that that firm's customers were "breathing a sigh of relief" after the settlement was announced.
"Many of these companies have invested a fortune in BlackBerries to equip their field sales force and now they know their investment is secure," Koch said. "However, the settlement still leaves an open question as to whether patent attorneys are going to control the destiny of emerging technologies."
The case and the outcome emphasized the importance of patents in the technology space — and displayed why it's critical for companies to protect their intellectual property.
"A settlement of this size reaffirms the fundamental value of patents in the marketplace and the need for companies to address these issues as part of their overall business plans," said Michael Stolarski, an attorney with firm of Brinks Hofer Gilson & Lione.