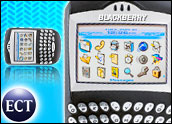 Shares of Research In Motion dropped Friday after the maker of the BlackBerry e-mail reader said revenue fell short of analyst targets for the fourth quarter. The company gave a weaker-than-expected forecast, despite its claim that it has regained momentum now that its legal issues are behind it.
Ontario, Canada-based RIM reiterated that sales were hurt by the legal struggle it was locked in with patent-holder NTP. That case was finally settled in early March after months of legal maneuvering, but the uncertainty hanging over RIM helped deter many would-be buyers of the service, which controls about 80 percent of the U.S. market for corporate mobile e-mail.
RIM posted earnings of US$18.4 million, compared to a net loss of $2.6 million in the year-ago period. Revenue for the quarter ending in early March was $561.2 million, up 39 percent from $404.8 million in the same quarter of 2005, but below RIM's own projections and some $16 million below the consensus of analysts.
RIM shares fell more than 4 percent in midday trading Friday to $80.90 per share.
Cautious Optimism
RIM said it added about 625,000 BlackBerry subscribers in the quarter, bringing its total to 4.9 million.
"We recently passed the $2 billion annual revenue and 5 million subscribers milestones," said co-CEO Jim Balsillie. "Our strong market position, together with our continuing technology leadership and our unique ability to provide customers and partners with a comprehensive wireless solution, presents great opportunity for RIM in the new fiscal year."
The company has seen "a recovery in subscriber additions and business momentum since RIM settled the patent litigation," said CFO Dennis Kavelman.
"We have been very encouraged by the increasingly positive indications from customers and partners over the past several weeks, but we also believe it is important to remain prudent in our outlook as we continue to monitor and foster the post-settlement momentum," he added.
The company forecast first-quarter earnings to be 60 cents to 65 cents per share on revenue of $580 million to $610 million. Wall Street analysts had been forecasting earnings of 76 cents and sales of $625.6 million.
With the epic lawsuit behind it, RIM now faces tough competition from the likes of Microsoft and others, as the long period of uncertainty — at one point it faced possible shutdown of its BlackBerry service in the U.S. — has helped those competitors gain some traction.
Research firm IDC recently projected that the number of Windows Mobile-enabled phones will double in 2007 and 2008, giving that platform some 13 percent of the market within two years.
BlackBerry adoption may be slowing not because of competition but because "the wireless e-mail market could be saturating at current levels," Bear Stearns analyst Andrew J. Neff noted.
"While potential for wireless e-mail may be very large, the issue is what price of service/handset is required to rejuvenate growth," Neff said in a research note as he joined other analysts in downgrading RIM stock after the earnings release.
Room for More Than One?
Others were more upbeat, with Goldman Sachs analyst Brantley Thompson saying that the BlackBerry's would-be competitors face "formidable" barriers to entry into the market. "Every major RIM customer recently tested the major competitors under the threat that RIM would be shut down, and the net impact was a little if any loss of customers," he said.
RIM should be able to hold the line on BlackBerry services because of its relatively strong financial position and its market strength, Gartner analyst Martin Reynolds told the E-Commerce Times. Still, some "RIM competitors may have been able to exploit the uncertainty." The best test of that will come in the next earnings release, he added.
Gartner is advising clients to take a careful, long-term look at their wireless e-mail needs. "A single-provider solution may be acceptable today, but enterprises must make long-term plans to guard against possible loss of service," Reynolds said. "If BlackBerry users do not have confidence in the level of redundancy RIM offers, they may need to consider alternative providers."