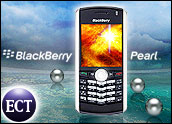 Research In Motion (RIM) provided more evidence that it was distancing itself from a slew of rivals in the mobile e-mail space, saying strong demand for its category leading BlackBerry device helped it post a 47 percent jump in profit and a nearly 50 percent rise in sales for the third quarter.
RIM said it earned US$176 million, or 93 cents a share, in the third quarter, up from $120.1 million one year ago. Revenue increased by 49 percent, to $835.1 million.
Popular Product
The Waterloo, Ontario-based company exceeded its own forecasts and beat analyst targets on many fronts, including on new subscriptions added. It racked up 875,000 new BlackBerry users in the three-month period, ahead of predictions it made in September. RIM now has about 7 million users of its mobile e-mail service and hardware.
RIM also posted a fourth-quarter forecast that suggested the company would again out-perform analyst expectations.
"New product launches during the past few months have exceeded our expectations and we look forward to continuing this momentum into the new year," said co-CEO James Balsillie.
Those new product launches have included the BlackBerry Pearl, a smartphone that includes a built-in music player and digital camera, and a lower price tag as RIM tries to expand its appeal beyond its traditional base of business users.
Pulling Away?
The latest report suggests that RIM is solidifying its hold on the mobile e-mail market share lead even as a gang of would-be rivals launches new products aimed at the same user base.
Within the past half year, Motorola debuted the Q smartphone with push e-mail capabilities and Nokia rolled out an e-mail-ready smartphone line. Last month, Samsung launched the BlackJack line of devices, promptly drawing a lawsuit from RIM that claims the device's name is meant to confuse consumers into believing it's a BlackBerry.
Though all of those device makers sell far more units than RIM in total, most have not been able to position their devices as the business-friendly workhorses the BlackBerry is viewed as.
Meanwhile, much of RIM's gains appear to be coming at the expense of Palm, which is rumored to be a takeover target as its earnings sag.
Palm said earlier this week it would post lower sales numbers for the first time in three years. It has tried to debut several new devices based on the Windows Mobile operating systems, but is still struggling to keep up.
Rolling Out and On
RIM said the results were preliminary and are subject to change based on an ongoing internal review of past stock options granting practices.
Amid its rising fortunes, RIM shares have doubled during 2006, rising steadily since March when it struck a $612.5 million deal to settle a patent lawsuit brought by NTP.
In morning trading Friday, the shares rose again, climbing 0.8 percent to $134.84.
RIM's boosters say it still has plenty of room for growth, even if it doesn't see high penetration rates in the consumer market.
The Indigo phone, aimed at business users, could hit shelves in a matter of weeks and provide another burst of sales and subscriptions, according to RBC Capital Markets analyst Mike Abramsky. The device, which RIM has not announced, will have a larger screen, a full keyboard and a much higher selling price than the Pearl, Abramsky noted.
Asia-Pacific Market
RIM also has designs on cracking new markets, recently inking a deal with NTT DoCoMo to sell the BlackBerry into Japan, and laying the groundwork for a move into the Chinese market.
Still, RIM isn't a lock to hold even the business market indefinitely if rivals can produce better devices, especially those that can extend network functionality to the mobile world.
"RIM must pursue much broader markets for its products," said Gartner analyst Ken Dulaney. "New competitors seem to be arriving almost every day and are after the same market."
Whereas the current market for push wireless e-mail is small, by 2016 all mobile phones will be shipped with wireless e-mail functions, "effectively making all 2.4 billion phone users worldwide candidates for wireless e-mail use," he added.