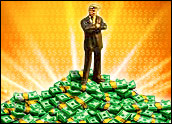 Warner Music Group acknowledged Tuesday it is still interested in purchasing EMI Group, its slumping rival in the troubled music industry, but such a deal is unlikely to solve the long-term problems facing both companies.
New York-based Warner Music confirmed it approached EMI on Jan. 24 to discuss a purchase. EMI, based in London, announced the possible deal first.
Warner said it secured approval for the move from independent music companies before making the overture. Any such deal must be approved by antitrust guardians in the European Union.
It's not the first time the two companies have danced this dance. There were merger discussions as recently as June, when EMI and Warner offered each other about US$4.6 billion. EMI was also talking with Permira Advisers, a buyout company, but that deal collapsed when a price could not be agreed upon, according to published reports.
Damaged by Downloads
Both EMI and Warner are suffering from sales declines, widely attributed to the continued availability of pirated music files freely distributed on the Internet over file-sharing networks. While a purchase of EMI by Warner would give it a balance-sheet boost by allowing cost-savings, it probably wouldn't solve the problem of music piracy.
"They've done this before. They played this song before," Phil Leigh, senior analyst for Inside Digital Media, told the E-Commerce Times. "What's happening is revenues are declining in the record label business overall and when you have an industry declining, it's natural for competitors to merge to reduce costs."
EMI and Warner "glomming onto each other" would amount to a Band-Aid that isn't likely to stop the bleeding, Michael McGuire, vice president of research for media industry advisory services at Gartner told the E-Commerce Times.
Just an Idea
The companies stressed no formal offer has been made and it was noted that any buyout deal must pass the muster of European antimonopoly officials. Concern that those European Union regulators wouldn't approve an EMI/Warner merger stymied consolidation plans in July.
If Warner Music succeeds in acquiring EMI, the combination would control about a quarter of the world's music market, making it larger than Sony BMG but still smaller than Vivendi's Universal Music Group.
On Feb. 8, Warner said quarterly sales of recorded music decreased 13 percent to $800 million. Six days later, EMI told investors it was experiencing an "unprecedented level of market decline" and "an exceptionally high level of product returns." The company, the world's third largest music label, said it expects a 15 percent yearly decline in recorded music sales.
Outdated Business Model
Music companies can no longer operate on the pre-Internet model structured around the sale of expensive albums, McGuire explained. People these days are more likely to want individual songs — if they're willing to pay at all given the availability of free, pirated files — and they expect a price point of under a dollar.
"If you are in a marketplace where the unit price at retail is 99 cents, not twelve bucks for a CD, it's a very distinct and serious challenge for any of the labels to continue to grow," he added. "For reducing scale, those buyouts are all well and good. But people will be looking for whether the combined company can have a business strategy that better defines what a music label is in the 21st Century."
Investors didn't seem to care whether a Warner purchase of EMI was only a short-term fix. Shares of EMI experienced their biggest gain in almost three months — jumping more than 5 percent in midday trading on the London Stock Exchange — after the company announced Warner's renewed flirtations.