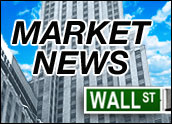 Oil prices continued to ease Monday, but new worries about the strength of consumer spending drove markets lower.
Oil futures closed at $46.05 after reaching a recent record high of $49.40 a barrel on Monday.
Iraq's ability to boost the amount of oil being pumped to waiting tankers as fighting in some key regions eased was cited as a major reason for the price drop.
Unlike in recent weeks, however, the good news on oil prices didn't get a chance to ignite a stock rally.
Wal-Mart Warnings
Instead, attention turned to consumers after number one retailer Wal-Mart warned August sales would be below previous forecasts.
The retailer cited the impact of Hurricane Charley, which forced it to close some 75 Florida stores temporarily, and because a later-than-usual Labor Day was pushing back some back-to-school shopping into September.
Wal-Mart shares fell nearly 3 percent before rebounding some, but most saw the news holding back stocks in general.
The Dow lost 37.09 to close at 10,073.05, while the Nasdaq managed to eek out a gain of less than a point, finishing at 1,838.70. The S&P was off just 2.67 points to 1,095.68.
Still Googling Away
With the hoopla of its IPO finally behind, Google began its first full week as a public company with its shares behaving much more normally.
The stock continued to rise, but gained just about 1.5 percent in Monday trading and now sits at 110.01, well above its $85 debut price.
What little earnings news the markets offered was mainly upbeat. Federal Express shares were up 3 percent after the company delivered a higher earnings outlook for the current quarter and the rest of the year.
Toys R Us also rose after it managed to show a profit in its second quarter.